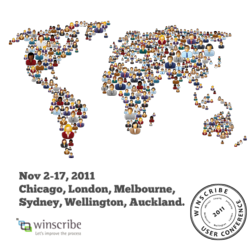 "We realize that our customers and partners are our greatest asset and these conferences are just one way in which we say thank you for being part of the Winscribe family." – Matthew Weavers, CEO at Winscribe
Auckland, New Zealand (PRWEB) October 04, 2011
Winscribe is pleased to announce the 2nd Annual Global Winscribe User Conference Series taking place throughout November in the United States, United Kingdom, Australia and New Zealand. The 2nd Annual Global Winscribe User Conference Series highlights the latest innovations in digital dictation, speech recognition and business process management (BPM) technologies. The conference series is designed to connect all users of Winscribe's digital dictation and BPM solutions and provide them with the latest Winscribe news, insight into new product developments, and assist them in maximizing their Winscribe investment.
Conference presenters will address such topics as new innovations in Winscribe's digital dictation and BPM technologies, mobility applications for more efficient dictation, Winscribe's client-side and server-side speech recognition integration with Nuance's Dragon NaturallySpeakingTM, and much more. Users will explore a variety of methods to achieve greater efficiency gains in dictation and document management processes. Further, they will learn how organizations can harness the power of BPM technology to orchestrate their business processes. Finally, these events will present the unique opportunity to exchange ideas and information with other Winscribe users, and serve as a platform to voice feedback to Winscribe's developers and management team.
Matthew Weavers, CEO at Winscribe, commented: "Based on feedback we received over the last year from our first Global Winscribe User Conference Series, these events are highly valuable to our customers. The conferences have proven to be a great way for us to gather customer feedback and have influenced some of our most successful product developments, such as our digital dictation application for the Android operating system. We realize that our customers and partners are our greatest asset and these conferences are just one way in which we say thank you for being part of the Winscribe family. Winscribe will continue to evolve and pioneer dictation and workflow management solutions, based on the feedback we receive from our clients. The Global User Conference Series provides us with an outlet to better serve them and to thank them for their contributions."
The 2nd Annual Global Winscribe User Conference Series events are taking place throughout November at the following cities and venues:

USA: November 2-3, Millennium Knickerbocker Hotel, Chicago, IL, USA
UK: November 17, Churchill War Rooms, London, UK
AU: November 9, Rendezvous Hotel Melbourne, Melbourne, AU
AU: November 10, Rydges World Square Hotel, Sydney, AU
NZ: November 15, BNZ Partners Business Center Wellington, Wellington, NZ
NZ: November 16, BNZ Partners Business Center Auckland, Auckland, NZ
NZ: November 17, Villa Maria Winery, Auckland, NZ
Winscribe's User Conferences are free to attend for all Winscribe clients and any other professional organizations interested in learning how they can utilize digital dictation and workflow solutions to boost employee productivity and improve business processes. Media, press and interested bloggers may also register for the event.
Winscribe will be supported by its strategic partners from industry leading organizations worldwide.
To learn more about the 2nd Annual Global Winscribe User Conference or to register, please visit http://www.winscribe.com/Winscribe/News-and-Events/Events/User-Conferences-2011 or E-mail marketing(at)winscribe(dot)com.
About Winscribe:
Winscribe is a global software and services company that specializes in streamlining the way people, processes and systems work together. Founded in 1995, Winscribe is internationally recognized for its workflow solutions that manage digital dictation processes for thousands of organizations in a range of industry sectors and more recently for its Business Process Management software. As a Gold Certified Partner, the company uses the latest Microsoft development platforms and tools to create products that integrate well to current commercial environments.
Winscribe has offices in the USA, UK, New Zealand, Australia and Switzerland with over 100 sales partners in 25 countries supporting more than 350,000 users worldwide. Winscribe solutions are adaptable to most business requirements and are most widely used in some specific markets including Legal, Healthcare, Law Enforcement, Insurance, Government, and Transcription Services.
# # #