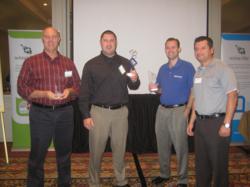 We have some of the greatest and brightest partners serving a variety of verticals and providing the best customer service. We are proud to recognize Nelson Systems, Van Ausdall & Farrar and all of our partners for their achievements" - Marco Ramirez
Chicago, IL (PRWEB) November 22, 2011
Winscribe presented four awards to Winscribe partners that continue to demonstrate excellence in providing technical support, marketing and sales. These prestigious awards honor the work of Winscribe partners and resellers which display an exceptional ability to provide technical support and deliver Winscribe software solutions to a variety of market verticals - including legal, government, transcription, healthcare, insurance, and law enforcement. In addition, they recognize business partners that utilize best sales and marketing practices and innovative methodologies for showcasing Winscribe's technologies.
Illinois-based Winscribe partner, Nelson Systems, took home the top three awards for Excellence in Technical Support, Top Channel Marketer and Top Channel Sales. Doug Nelson, CEO at Nelson Systems, commented: "It is truly an honor for us to be recognized by Winscribe for sales and customer service. We appreciate the support we have always received from the entire Winscribe team and look forward to continuing our partnership with Winscribe in the future."
Additionally, Winscribe partner, Van Ausdall & Farrar, was presented with an award for placing second in Winscribe Channel Sales. Marco Ramirez, American Regional Manager at Winscribe, discussed that "Winscribe's partner channel contributes greatly to the success of Winscribe, as a whole. Our partners, in cooperation with Winscribe's users, have greatly helped to shape Winscribe's software design and functionality. This enables Winscribe to provide the most innovative dictation and workflow software on the market. In addition, we have some of the greatest and brightest partners serving a variety of verticals and providing the best customer service. We are proud to recognize Nelson Systems, Van Ausdall & Farrar and all of our partners for their great achievements throughout the year."
About Nelson Systems, Inc.:
Nelson Systems specializes in medical and legal dictation applications and is also a leader in liability recording systems for public safety and contact centers. Based in Springfield, Illinois, Nelson Systems focuses on continued improvement in technical support and offering quality solutions to their customers since 1989.
About Van Ausdall & Farrar, Inc.:
Van Ausdall & Farrar, Inc. is a privately-owned office technology solutions company. Founded in 1914 as a distributor for the Thomas Edison Company, Van Ausdall & Farrar is now recognized throughout different market segments as a leader in the office automation industry. Van Ausdall & Farrar provides solutions and support for digital voice dictation, outsourced transcription services, document management and enterprise content management solutions as well as copier and printer services, sales and supplies.
About Winscribe:
Winscribe is a global software and services company that specializes in streamlining the way people, processes and systems work together. Founded in 1995, Winscribe is internationally recognized for its workflow solutions that manage digital dictation processes for thousands of organizations in a range of industry sectors and more recently for its business process management software. As a Gold Certified Partner, the company uses the latest Microsoft development platforms and tools to create products that integrate well to current commercial environments.
Winscribe has offices in the USA, UK, New Zealand, Australia and Switzerland with over 100 sales partners in 25 countries supporting more than 350,000 users worldwide. Winscribe solutions are adaptable to most business requirements and are most widely used in some specific markets including Legal, Healthcare, Law Enforcement, Insurance, Government, and Transcription Services.
# # #