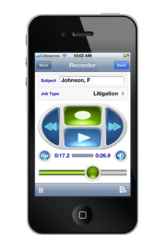 Authors love the iPhone application as it allows them to dictate on the go, and is a brilliant cost saver as dictation can be completed without the purchase of additional hardware" - Brad Shannon, Technology Officer, Clark, Toop & Taylor
Melbourne, Australia (PRWEB) February 02, 2012
Clark Toop & Taylor (CTT) is one of Australia's most successful personal injury law firms, having gained its reputation through their continued focus on providing superior customer service to clients. In 2010, the company expanded into four separate offices across Victoria which brought the total full time staff members to forty. During this time, CTT's Technology Officer Brad Shannon identified a need to replace their existing digital dictation software which had failed to improve firm wide efficiency.
Brad Shannon explains: "The old system limited file share to six folders which led to an underutilisation of resources and time consuming processes. Even though the system was digital, I still had to manually manage workflows in the office, resulting in delays of up to 24 hours. Due to poor training and a lack of software support, implementation of the original software was not supported by the typists, and I would have to manually shift work around up to five times a day."
Once the need for a new system was identified, CTT underwent a period of research to find a flexible solution that could allow lawyers to dictate whilst moving across 4 offices, and that could assist with managing remote secretaries. As CTT had invested heavily in Olympus DS5000 recorders, and with iPhones being rolled across the board, CTT also sought a solution that could integrate with existing hardware and systems.
After a successful pilot period and an optimal workflow configuration had been designed, Winscribe Dictation was rolled out across 4 offices and installed into author iPhones to achieve immediate results.
Brad Shannon explains: "With the software being a user friendly system for both authors and typists, it has been easier to drive authors to do more dictation, and there has been an 8% increase of completed documents being delivered to clients on time. Authors love the iPhone application as it allows them to dictate on the go, and is a brilliant cost saver as dictation can be completed without the purchase of additional hardware. The significant time and effort spent on maintaining and supporting the workflows within the office have been significantly reduced after installing Winscribe, resulting in a 25% improvement in turnaround times."
A Full Case Study is Available here: http://bit.ly/z8kjZE
About Winscribe:
As the world's leading provider of digital dictation software, Winscribe supports businesses all over the globe with their requirements for digital dictation, digital transcription, voice recognition, and workflow management. Based on years of experience in the workflow management field Winscribe has now extended its offering to Business Process Management solutions for the legal market.
Winscribe is the largest supplier of digital dictation technology in the world with installations in 25 countries and more than 350,000 users globally. Winscribe provides solutions for a number of industries including Legal, Law Enforcement, Healthcare, Transcription, Surveying, Insurance and Government sectors and has a widespread global reach with strong customer presence in North America, Europe, Australasia, and South Africa.
Offices located in the USA, UK, New Zealand, Australia, and Switzerland and a network of more than 100 sales partners provide a global knowledge base that enables customers to successfully implement and maintain their Winscribe solution.
To learn more about Winscribe and their suite of digital dictation, speech recognition and business process management solutions, please visit http://www.winscribe.com.
###