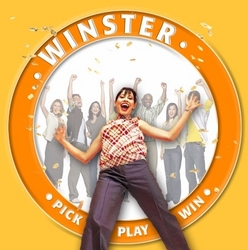 Just because the economy is sluggish, it doesn't mean people need to stop having fun
San Mateo, CA (PRWEB) October 30, 2008
In today's tough economic times people still want to be entertained and have fun. Winster.com is an online gaming community where thousands of people play games everyday and socialize with each other. It's a new outlet for people to forget their worries about the economy, mounting debt and a ballooning mortgage payment, and just have fun with other people online.
"Just because the economy is sluggish, it doesn't mean people need to stop having fun," says Winster Co-founder Michelle Kaplan. "We're devoted to giving people an online place to get away from everyday worries to have fun, meet other people and stimulate their minds with a positive, rewarding gaming experience. And it's all for free!"
In previous downturns, people tightened their belts by spending less money on entertainment. Today, there is a vibrant, socially connected world of online gaming that gives people options they've never had for free, engaging entertainment. Winster.com has created a new way to play games online. Rather than competing against one another, players cooperate with each other to win prizes. This cooperative gaming approach promotes interaction through shared goals and creates a natural social phenomenon that is taking the online gaming world by storm.
Today's sluggish economy combined with the high costs of gas and entertainment such as going to a movie, makes it tough for people to get out and about as often as they would like. Winster.com fills the entertainment and social void by providing a community they can go to anytime, all from the comfort of their own home. Winster.com's thriving community includes young people, seniors, men and women who have found a place for love, a place for friendship and a place to fill their desire to have fun with other people!
About Winster
Winster, Inc. operates a new type of Internet game site that caters to people who play online games as a social outlet rather than a competitive one. The site offers innovative games designed to foster a sense of community and promote positive social interaction by enabling players to help each other win prizes. The company was founded in 2004 and is headquartered in San Mateo, California.
###