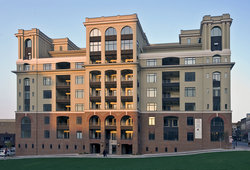 Our wish is to show the marketplace that we were serious about selling, and felt there was no better way to reflect these intentions than a final sale through an absolute auction.
Winston Salem, NC (PRWEB) October 7, 2010
Winston-Salem, North Carolina (PRWEB) October 7, 2010 -- Local developers One Park Vista, LLC, have announced the final sale at auction of the last remaining twenty-one residential condominiums at their high-end development at One Park Vista in downtown Winston-Salem. The condominiums are located at 1 Park Vista Lane between Third and Fourth St. near the Trade St. intersection. Eight parcels will be offered absolute, without reserve, and regardless of price. Previous pricing had been between $329,000 and $1,100,000. Suggested opening bids for the auction will be between $75,000 and $220,000 for two and three bedroom condos including the last remaining penthouse. The auction will take place on Saturday, November 13th and will be conducted by Chartwell Auctions, Jason Dolph, AARE, Broker and Auctioneer.
The thirty-two unit / eight-story high-rise was completed in 2008 and designed in the 1920's classical revival style by Winston-Salem-based Harbinson & Associates Architects. While initial sales were strong and interest in the condos remained steady since completion, national economic conditions have slowed the buying decision of many home buyers throughout the nation and Winston-Salem has been no exception. One Park Vista, LLC managing member Thad Lewallen says, "Like many, we see the fog of economic uncertainty beginning to clear and can view a light at the end of the tunnel. We felt the auction program gave us the opportunity to be in the forefront of this recovery and to complete our vision for One Park Vista, Winston-Salem's only available downtown new-construction condominiums. Our wish is to show the marketplace that we were serious about selling, and felt there was no better way to reflect these intentions than a final sale through an absolute auction."
One Park Vista features solid concrete construction with below ground parking allowing up to two assigned spaces per unit. Resident's enter the secured building to an elegant lobby with polished marble floors with elevator access to all levels. Units feature open foyers, high ceilings, large dining room, spacious kitchen, and individual covered porches with astonishing city views. Just blocks from the Arts District, residents can experience a vibrant neighborhood with restaurants, nightlife, art galleries, shopping, music, performing arts, theater, summer outdoor concerts and more.
The auction offering will allow a successful bidder the choice of two and three bedroom units with 2, 2.5, 3 and 3.5 bathroom floor plans on all levels of the building including the last remaining penthouse as follows:

Ten fully finished units from 1504 to 2456 square feet. These luxury units feature custom wood cabinets, deluxe granite countertops, real hardwood floors, superior lighting/plumbing fixtures, gas fireplaces and GE Profile appliances.
Ten unfinished units from 1633-2456 square feet ideal for owners who prefer to have full creative control of their new home. These units are already finished to the drywall as owners will add their select cabinetry, countertops, flooring and other selected finishes to match their individual taste.
One top floor 3 bedroom/3.5 bath penthouse unit totaling 4035 square feet that is the last remaining unsold of four total penthouses. This bi-level unfinished unit with large balcony overlooking the "City of Arts" is perhaps the crown jewel of the offering and an unprecedented opportunity to own a metropolitan penthouse at a fraction of previous sales.
Financing is offered by locally headquartered Southern Community Bank and Trust to qualified primary home, second home, and investor purchasers with available fixed rate mortgage packages with as low as 10% down payment for finished units as well as construction-to- permanent financing for unfinished units.
Prospective bidders will have the chance to view the available condos during eight scheduled open house events from 12:00 Noon to 3:00 P.M. on the Saturday and Sunday's beginning October 23rdand 24th then continuing October 30th and 31st through November 6th and 7th. Weekday showings are scheduled for Wednesday October 27th and November 10th also from 12:00 Noon until 3:00 P.M. Jason Dolph, Chartwell Auctions Real Estate Broker and Auctioneer managing the sale states, "We believe this auction will provide a win-win situation for both buyers searching for a luxury home on a wholesale basis and seller looking to achieve a sell-out of his remaining inventory in a predetermined timeframe".
The Auction will take place Saturday, November 13th at 11:00 A.M. and held at the Hawthorne Inn and Conference Center located 420 High Street in Winston-Salem. For a free color brochure with terms of sale of the auction, parties can call Jason Dolph with Chartwell Auctions at 704-831-8983 or visit http://www.chartwellgroup.com/auctions.
###