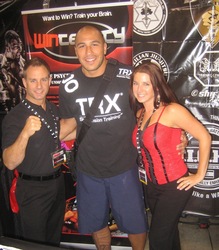 The WINTENSITY seminar will change the way you view your martial arts training for the rest of your life. This is the most unique 'Fight Training' seminar, ever.
Tampa, FL (PRWEB) June 10, 2010
WINTENSITY made a "hit" at the UFC Fan Expo 2010 at Mandalay Bay in Las Vegas on May 27th and 28th. Of nearly 500 vendor booths and displays, WINTENSITY.net was the only company at the expo offering seminar training on the "mental game" for competitive fighters. WINTENSITY conducts seminar training with a program entitled The Psychology of Combat and Effective Mental Preparation, geared toward educating competitive fighters and martial artists on better performance under the demands and stress of combat sports.
Many famous UFC fighters stopped by the WINTENSITY booth to hang out and for pictures, and the talk was all about the necessity of a "strong mindset" for performing well under the pressure of competitive MMA.
Legendary instructor Ken Hahn, of Striking Unlimited and striking coach from The Ultimate Fighter Season 8, readily stated while speaking with WINTENSITY Founder and Instructor Eric Parker, that "the mental game is at least 70%-80% of the total picture" for a fighter.
Brandon "The Truth" Vera visited the WINTENSITY booth to say hello and take a few pictures. Vera certainly knows "The Truth" about the importance of training in the right frame of mind, and the necessity of strong mental attitude and conditioning.
Justin Wren from the Ultimate Fighter Season 10, Heavyweights also stopped by to check out WINTENSITY, and to say hello.
"The New York Badass" himself, Phil Baroni, commented to WINTENSITY's Eric Parker that he has not paid as much attention to the "mental side of the game" in the past as he wished he had, and that many fighters underestimate the importance of the mental game in their training.
When asked what makes WINTENSITY so unique, Founder and Instructor Eric Parker replied, "The WINTENSITY seminar will change the way you view your martial arts training for the rest of your life." Parker added that "a focus on mental preparation, and an understanding of the psychology of human conflict is indispensible for competitive fighters."
WINTENSITY offers live seminar training to educate competitive fighters and martial artists on the effects of critical stress upon their performance, and on the importance of effective mental preparation as part of their fight training. In addition, WINTENSITY provides training on new mental and psychological techniques specifically designed to develop better performance when they need it most, ensuring a fighter can reach his or her full potential in the ring or in the cage.
WINTENSITY can found on the web at http://www.wintensity.net, reached directly at 877-352-3828, or contacted by email at training(at)wintensity(dot)net.
###