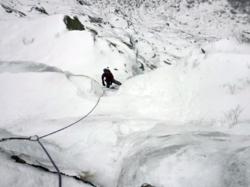 Mt. Washington Valley, NH (PRWEB) December 23, 2011
Winter has finally arrived in Mt. Washington Valley and Synnott Mountain Guides has led the first guided Mt. Washington summit climb of the 2011/2012 climbing season in full winter conditions on December 14, 2011. Mt. Washington, known as home to the "world's worst weather", is one of the most popular winter mountaineering destinations in the contiguous United States. Synnott Mountain Guides has also been the first New England climbing school to provided guided ice climbing in New Hampshire for the 2011/2012 winter climbing season, guiding clients on ice climbs in Tuckerman Ravine and Frankenstein Cliffs.
Winter has been slow to arrive in Mt. Washington Valley this year, with many of the popular ice climbs just now forming. Synnott Mountain Guides is quickly booking its scheduled winter climbing courses, including Introduction to Mountaineering, Intermediate Mountaineering, Mt. Rainier Prep, the Presidential Traverse, all levels of ice climbing, avalanche awareness and the ever-popular Mt. Washington summit climb. The New Hampshire climbing guides also offer mixed climbing and backcountry skiing. Guided climbing is available for everything from one-on-one instruction to large groups and custom dates are always offered when conditions permit.
The New England climbing school offers more dates than any other guiding service for winter mountaineering courses and Mt. Washington summit climbs. As with all winter mountaineering courses, Synnott Mountain Guides provides all climbing gear, including boots, crampons, ice axe, snowshoes and tent. Other items such as sleeping bags and down and shell jackets are available for rent.
Mark Synnott has taken on adventure in places like Patagonia , Pakistan , Nepal , India, China, Tibet, the Alaska Range, the Amazon, West Africa and Pitcairn Island in the South Pacific. When not in the mountains, Mark works with The North Face research, design and development teams and he lectures frequently on his life of adventure. He's also a successful freelance photojournalist and a senior contributing editor at Climbing Magazine. His articles and photos have appeared in many publications in the U.S. and abroad, including National Geographic Adventure, Men's Journal, Outside, Skiing and New York Magazine. Mark Synnott is also the author of Baffin Island – Climbing, Trekking & Skiing, a Baffin Island guidebook illustrated with stunning photos and detailed maps. In the last several years, Mark has been on climbing expeditions to Borneo, Chad and Newfoundland, all three of which also included climbing sensation Alex Honnold and fellow North Face climbing team member, whom Mark has had the pleasure of mentoring in regards to big wall and expedition climbing More information about Mark's climbing expeditions and Synnott Mountain Guides can be found at http://www.newhampshireclimbing.com.
# # #