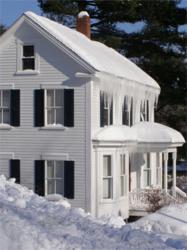 Baltimore, MD (PRWEB) December 22, 2012
While the winter weather conditions can be harsh, this often doesn't deter home invaders from breaking into homes. Many people know of the increased threat during the holidays, but home break-ins occur at any time of the year, despite the weather. It's important for homes to be protected from threats during the winter, just as they would be during the warmer months.
The security experts at SecuritySystemReviews.com, a site providing the best home security system reviews, put together a list of steps homeowners can take to protect their home and family during the frigid winter months.
1. Always ensure home security system equipment is in proper working order. Equipment can be vulnerable to malfunction during severe weather, such as ice or snow storms, so it should be checked frequently during the winter months to make sure it is working properly. This includes monitoring systems such as the smoke and carbon monoxide detectors. Because of furnaces, heating systems and fireplaces, it is very important to make sure all equipment is working during the winter. Also, keep a close eye on outdoor equipment, such as security lighting and motion detectors, because these items are incredibly susceptible to severe weather conditions.
2. Always keep driveways and walkways plowed. An unplowed driveway or walkway during the winter, like an un-mowed lawn during the summer, may be a sign to a would-be burglar that your home is unoccupied. Keeping the outside of a home maintained is as important to security during the winter as it is during the summer. This is also a good idea to protect personal safety, by prevent falls and other accidents from occurring.
3. Double-check locks on doors and windows, and alarm systems before leaving the house. When it's cold, it can be tempting to take short-cuts when it comes to checking out home security, before jumping into the car, but it's just as important to take these steps during the winter, even if it is more difficult.
4. Check the condition of windows prior to winter to the start of winter. During the winter, old wooden windows are likely to make a house draftier, which will increase energy bills. These old windows also make inviting targets to home invaders. If necessary, replace old windows before winter weather hits.
5. Invest in a lock defroster. A lock defroster can be valuable during the winter months for home or car locks that become frozen, and prevent entrance. They are often pretty inexpensive, and easy to carry around in a purse or pocket.
6. Although it can be very tempting to let a car warm up during the winter, this can be an invitation for thieves. Not only is there the possibility of car theft, but leaving a set of keys in the car is also an easy way for a criminal to target a home.
About the Company
SecuritySystemReviews.com is a website providing information on home security, including deals on security systems, and reviews and comparisons. The site includes reviews for top home security companies, including Protect America reviews and Vivint Reviews.