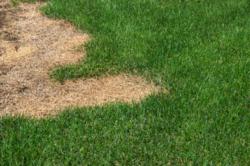 The landscapes that come back next Spring will be those that get water when the opportunity arises this winter
Denver, CO (PRWEB) December 13, 2012
Swingle Lawn, Tree & Landscape Care is recommending Colorado property owners adequately water their lawns, trees, and shrubs—even during the dormant winter months--to prevent damage caused by unseasonably dry conditions.
"This fall has been extremely dry and there seems to be no relief in the near future," said John Gibson, President of Swingle. "Colorado lawns and trees are not receiving enough natural precipitation at this point, so it's time to get out the garden hose or call a professional lawn and tree care company."
According to the United States Drought Monitor, all of Colorado is in a drought and over 90 percent of our state is experiencing a severe drought. The drought is expected to persist or intensify through February, 2013. The Community Collaborative Rain, Hail, & Snow Network states that Denver has received 54 percent less precipitation in October and November this year than in 2011.
"The landscapes that come back next Spring," said Gibson, "will be those that get water when the opportunity arises this winter."
While soil moisture in Spring can be sufficient to help Kentucky bluegrass lawns recover from a Winter drought such as the one Colorado is experiencing, the combination of cool temperatures and lack of moisture make Colorado lawns prone to mite infestations. Preventive measures should include watering during the winter months. As sprinkler systems should already be winterized, this will need to be done by hand or a portable sprinkler. Special attention should be paid to southern and western exposures and areas near pine and spruce trees. Swingle strongly recommends all Colorado homeowners and property managers water their landscapes every four to six weeks when temperatures are above freezing, the soil isn't frozen, and in the absence of natural precipitation.
Trees and shrubs should also be watered. While surface watering is better than none, irrigation systems that get beneath landscaping fabric and rock beds are preferable. Larger trees and shrubs require more water. Where grass quickly demonstrates a lack of moisture, trees may be dead, damaged or dying for a full year before exhibiting symptoms.
"People in Denver and the Colorado Front Range should already be doing these activities," said Gibson, "and if they haven't, the time to start is right now. The cure involves removal of dead trees and re-sodding entire lawns, so the prevention we're prescribing is very preferable."
Swingle Landscape Care Consultants provide free inspections for homes and businesses in Denver, Fort Collins and the Colorado Front Range. Homeowners and commercial property managers can call (303) 337-6200 or visit http://www.MySwingle.com.
About Swingle Lawn, Tree and Landscape Care
Founded in 1947, Swingle Lawn, Tree and Landscape Care has grown to be one of the most respected residential and commercial landscape care companies in Colorado, providing lawn care, tree care and award-winning holiday lighting displays for homes and businesses. For more information, please contact Vince Serio at (303) 337-6200 or visit MySwingle (dot) com.