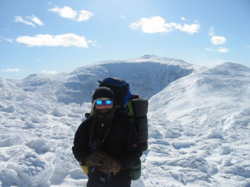 Mt. Washington Valley, NH (PRWEB) November 17, 2011
The winter Presidential Traverse, often referred to as the Presi Traverse, is a true adventure and ultimate fitness test for many. A 21-mile mountaineering challenge that climbs the iconic Mt. Washington and seven other peaks in the White Mountains of New Hampshire, the Presi Traverse is a coveted mountaineering objective for seasoned climbers and ultra-fit endurance athletes. The Presidential Traverse is the quintessential multi-day mountaineering objective in the East, and an ideal training regimen for climbers with aspirations of bigger objectives such as Mt. Rainier and Denali. The Presi Traverse includes climbing Mt. Madison, Mt. Adams, Mt. Jefferson, Mt. Clay, Mt. Washington, Mt. Monroe, Mt. Eisenhower and Mt. Pierce. It can also be extended to include Mt. Jackson and/or Mt. Webster, the latter of which extends the total distance to 28 miles.
While Synnott Mountain Guides conducts guided Presidential Traverses each week of the winter climbing season to individuals and parties wishing to reserve their own custom Presi Traverse experience, whether it be for a group or an individual, guided Presidential Traverse climbs have been set for December 8 - 11, 16 - 18 and 29 - 31, January 1 - 3, 6 - 8, 13 - 15, 20 - 22 and 27 - 29, February 3 - 5, 10 - 12, 17 - 19 and 24 - 26, March 2 - 4, 9 - 11, 16 - 18, 23 - 25 and March 30 - April 1. Additional April dates include the 6 - 9 and 13 -15. Synnott Mountain Guides also provides custom dates for the Presi Traverse each week during the winter climbing season for individuals and groups. The New England climbing school offers more dates than any other guiding service for the Presidential Traverse. Steve DuPuis, the head guide for Synnott Mountain Guides Presidential Traverse climbs, has completed the Presi Traverse more than 100 times. As with all winter mountaineering courses, Synnott Mountain Guides provides all climbing gear, including boots, crampons, ice axe, snowshoes and tent. Other items such as sleeping bags and down and shell jackets are available for rent.
Mark Synnott has taken on adventure in places like Patagonia , Pakistan , Nepal , India, China, Tibet, the Alaska Range, the Amazon, West Africa and Pitcairn Island in the South Pacific. When not in the mountains, Mark works with The North Face research, design and development teams and he lectures frequently on his life of adventure. He's also a successful freelance photojournalist and a senior contributing editor at Climbing Magazine. His articles and photos have appeared in many publications in the U.S. and abroad, including National Geographic Adventure, Men's Journal, Outside, Skiing and New York Magazine. Mark Synnott is also the author of Baffin Island – Climbing, Trekking & Skiing, a Baffin Island guidebook illustrated with stunning photos and detailed maps. In the last several years, Mark has been on climbing expeditions to Borneo, Chad and Newfoundland, all three of which also included climbing sensation Alex Honnold and fellow North Face climbing team member, whom Mark has had the pleasure of mentoring in regards to big wall and expedition climbing More information about Mark's climbing expeditions and Synnott Mountain Guides can be found at http://www.newhampshireclimbing.com.
###