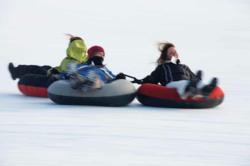 We want to remind vacationers that there are plenty of reasons to choose a mountain resort for your winter vacation right now!"
Winter Park-Fraser Valley, Colo. (PRWEB) January 11, 2012
Mother Nature is being stingy with the snowfall so far this winter across the United States, with less than 20 percent of the nation covered in the white stuff. But, as Winter Park-Fraser Valley points out, it is still possible to book a fun-filled winter vacation.
"We've been spoiled with 'early and often' dumps of Colorado's champagne powder in recent years," says Catherine Ross, Winter Park-Fraser Valley Chamber Director. "We're confident the snow will come this year, too. In the meantime we want to remind vacationers that there are plenty of reasons to choose a mountain resort for your winter vacation right now!"
Here are just five reasons Ross says travelers can look on the bright side of a slow start to the snow season.
1. Drier roads, easier access. The downfall to heavy snowfall is the road conditions, which can prove challenging for drivers, especially those from out-of-state who are unaccustomed to driving on snow-packed roads, notes Ross. With lighter-than-usual snow amounts, the roads are easier to maneuver. Choosing a resort like Winter Park-Fraser Valley that is close to a major airport (Winter Park is an easy 67-mile drive from Denver International Airport!) makes travel a snap, even for those flying into Colorado.
2. Deals. Many resorts are extending early-season offers, making a mountain getaway more affordable. Ross says that at Winter Park-Fraser Valley, for instance, visitors who stay two nights or more get a $50 Winter Park-Fraser Valley Key Card good for purchases at participating area merchants. The Key Card is free to obtain, and earns rewards each time a purchase is made and the card is presented, so the deals just keep on coming! Call 800-979-9871 to book, starting Jan. 21.
3. Fewer crowds. Those who want to enjoy the mountains but aren't particularly interested in snow skiing will appreciate the smaller crowds lower snow amounts offer. That adds up to shorter wait times at restaurants, more choices for rooms, and fewer cars on the roads.
4. Unique activities. Just because there isn't a sizable snowpack doesn't mean there aren't plenty of activities, says Ross. "Travelers just need to be a little creative." Snow hiking is a tranquil way to see the sites and all you need is a trail map, some sturdy boots or snowshoes and a little ambition. Winter Park-Fraser Valley has hundreds of miles of trails from which to choose. Ice skating, cross-country skiing, tubing and dog sledding are also entertaining activities that don't require a huge amount of snow to be exceptional.
5. Go to great heights. While the snow might be spotty at lower elevations, conditions improve greatly at altitude, says Ross. She suggests checking with the local visitors center for ideas on activities at higher elevations where the snow falls more regularly. For example, in Winter Park-Fraser Valley there are amazing snowmobiling trails above 5,000 feet where there is plenty of snow in which to play, says Ross.
Winter Park-Fraser Valley Chamber of Commerce
The Winter Park-Fraser Valley Chamber of Commerce is a non-profit Colorado corporation created to help further and maintain responsible growth in the Winter Park-Fraser Valley area, located in the Rocky Mountains just 65 miles west of Denver.
###