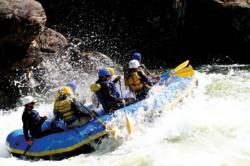 Winter Park-Fraser Valley, Colo. (PRWEB) May 21, 2012
Winter Park-Fraser Valley brings summer recreation to life just as Mother Nature does with the blooming wildflowers along the mountainsides and verdant displays of color in the valley. Whether it's mastering a paddle or a fishing rod or taking on Colorado's whitewater, Winter Park-Fraser Valley's waters provide an adrenaline fix to opportunists of all ages, skill levels and speeds.
Need more incentive to play in Winter Park-Fraser Valley this summer? The first 250 people who book two nights lodging through the Winter Park Play Free promotion will receive $50 on the Winter Park-Fraser Valley Key Card to shop, dine and explore. Offer good May 1-October 31, 2012 (some restrictions apply).

Rafting – The winding Colorado River and the exhilarating Clear Creek offer exciting rafting trips for the whole family. Miles of river make finding the right pace easy with mild and moderate to expert-level whitewater. Customize by choosing between a half-day, full-day or overnight outing. Transportation to and from the river is available, along with other necessities and amenities. For first-timers not sure about putting all their eggs in one raft, local outfitters enable riders to add a picnic, horseback ride, ATV tour and more before or after a splash down the river.
Kayaking – For the more independent thrill-seekers, solo or tandem kayaking brings an extra challenge to experiencing the river. Standard and inflatable kayaks are ready for a scenic float or a heart-pumping race down the majestic Colorado waters. Kayakers hungry for more action can plan additional out-of-water activities through the local rafting and kayaking companies.
Stand Up Paddling – Winter Park-Fraser Valley has the newest way to play on the water with stand up paddling. Requiring minimal gear and appropriate for kids as young as three, this fast-growing sport is a fun and easy way to explore the river, no waves necessary. It's also a great cross-training workout for skiers and snowboarders visiting this slope-side area in the off-season. Whether it's discovering the serenity of walking on water or toeing the edge during a yoga-paddleboard session, there are many ways to play.
Fishing – Winter Park-Fraser Valley harbors some of the most fishable water in the state. It's the spot to be this summer to catch a Colorado trout or fine-tune the art of fly-fishing. Every need from guides to boats and equipment are on hand at local fishing shops. Plus, special locations tailored to kids and the disabled make this summer sport fun for all.
Winter Park-Fraser Valley Chamber of Commerce
The Winter Park-Fraser Valley Chamber of Commerce is a non-profit Colorado corporation created to help further and maintain responsible growth in the Winter Park-Fraser Valley area, located in the Rocky Mountains just 65 miles west of Denver.