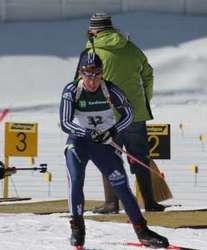 Vancouver, BC, Canada (PRWEB) February 5, 2010
Identical twins, Lanny and Tracy Barnes are ranked among the top women in the world competing in the Biathlon. Since competing in the 2006 Winter Games, the twins have been tearing up the Biathlon circuit with top rankings, working their way toward the 2010 Winter Games in Vancouver. The Barnes sisters credit Sinus Buster capsaicin nasal spray as an important tool that has helped them push through their grueling training on their way to Olympic success.
When the official 2010 US Biathlon team was named just a few weeks ago, the news was bittersweet. While Lanny Barnes was accepted to the 2010 team, Tracy missed the cut by a few points and was named as an alternate.
"Of course I was disappointed that Tracy didn't make the team. We both worked really hard together to get to this point, but not everything in life works out the way you planned. Tracy would probably be called up if anyone would get an injury or illness that would prevent them from racing, but both Tracy and I hope that our women's Olympic Biathlon team stays healthy and is able to put together some great results for Team USA," says Lanny Barnes.
Biathletes race through mountainous courses, skiing through designated loops. At the end of each loop, they must instantly control their heart rate and breathing to skillfully fire .22 caliber rifle rounds into tiny targets from challenging distances. Once they've hit the target, biathletes shoulder their rifles and race the loop multiple times, stopping to shoot at the end of each run. When they miss their target, competitors are penalized with extra loops for every missed shot. The fastest time wins in this grueling Olympic sport that requires athletic endurance, speed, strategy and concentration.
"It has been one of the hardest things in my life getting to this point in my biathlon career. It's been a roller-coaster of ups and downs, but it's been worth every minute of it. I always say at some point in my biathlon career it's going to start getting easier, but that fact is the further you reach with your goals, the harder you push and the harder you try; the harder this gets. It does help to have almost 10 years of experience to which you can pull from, but in this sport anything can happen, and at the same time anything is possible," adds Lanny.
Although the Barnes sisters have been using Sinus Buster since 2006, the company began officially sponsoring them in 2008. While it may sound strange that a nasal spray could help an athlete compete at the Olympic level, Sinus Buster delivers important benefits that other drug filled nasal sprays cannot. Since Olympic athletes cannot use drugs or stimulants, an all natural nasal spray that relieves congestion and sinus problems experienced while training in harsh climates is extremely important.
"Not only has Sinus Buster eliminated our allergy problems, but we have been able to breathe better and stay healthier. Every time we think we feel a cold coming on, we use Sinus Buster and have stayed amazingly healthy. It really works! By staying healthy and breathing better without allergy problems or headaches, we've been able to train more and train harder for the Winter Games in Vancouver. It is also all-natural and doesn't give you any side effects like other medications do. There are several things we don't leave home without when we travel to World Cups and other events: a pillow, a good book and Sinus Buster," says Lanny.
While the Barnes twins discovered Sinus Buster when the product was still largely unknown, today it's sold in thousands of stores including chains like Walgreens, Vitaminworld and Riteaid. Although there are dozens of nasal sprays on the market, Lanny thinks she know why Sinus Buster has become such a huge success.
"Sinus Buster has been so successful because the product speaks for itself. It really works! I have been so proud to introduce Sinus Buster to so many people over the years and watch how it can improve peoples' lives that suffer daily from severe allergies and constant headaches. I've always said and have heard so many people say that Sinus Buster has lifted the cloud hanging around your head. Sinus Buster makes life that much more enjoyable by eliminating sinus problems completely".
Lanny will be bringing Sinus Buster with her as she competes in Vancouver, but more importantly she will bring her competitive drive and feelings of honor as she represents the United States this month at the 2010 Winter Olympics.
"It is a huge honor to represent the United States at the Olympics. I've always strongly felt that the letters U.S.A. are more important than the name that is written inside our jerseys. We don't race for ourselves, but for our family, friends, and our great country. To pull on that USA uniform and compete against the best in the world on the Olympic stage is one of the greatest feelings in the world".
# # #