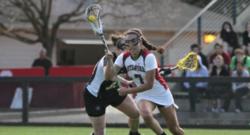 Hosting our Winter Lacrosse Camp is always one of the highlights of the year.
San Rafael, CA (PRWEB) November 19, 2012
Located 30 minutes south of San Francisco, the Stanford Winter Lacrosse Camp offers players from around the country a unique opportunity to experience firsthand the life of a Stanford student-athlete. Great athletic facilities, excellent coaches, and the beautiful Stanford campus make this camp location a favorite for hundreds of girls each year.
Directing the camp is Amy Bokker, Stanford's Head Women's Lacrosse Coach. "Hosting our Winter Lacrosse Camp is always one of the highlights of the year," says Coach Bokker. Currently in her fourth season at Stanford, Coach Bokker also serves as an Assistant Coach for the US Women's National team.
Assisting Coach Bokker at the Winter Lacrosse Camp will be Assistant Coach Brooke McKenzie and newly hired Assistant Coach Lauren Schwarzmann. Other staff members include Katie Woods - Head Coach at the University of Connecticut, Jen Wong - Head Coach at Temple University, Forest Stillwell - Assistant Coach at Bucknell University along with current and former Stanford Lacrosse players.
"We love hosting lacrosse camps and working with players from around the country," says Coach Bokker. "Our winter camp is a tremendous opportunity to train and play over the holiday break and prepare for the upcoming season."
The Stanford Winter Lacrosse Camp is designed for girls ages 14-18 and focuses on advanced skills, position play, team concepts and an overall intense level of competition.
Overnight campers reside at the Sheraton Palo Alto Hotel located just up the street from the university lacrosse fields. There are three price levels depending on how many campers you have in your room. Please see the website for more details.
About US Sports Camps - US Sports Camps (USSC), headquartered in San Rafael, California, is America's largest sports camp network and the licensed operator of Nike Sports Camps. The company has offered camps since 1975 with the same mission that defines it today: to shape a lifelong enjoyment of athletics through high quality sports education and skill enhancement.
Coaches, Parents, and Campers interested can visit ussportscamps.com or call 1-800-645-3226.