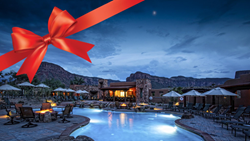 In 2016, Gateway Canyons Resort was voted the #1 resort in Colorado according to Conde Nast Traveler.
Gateway, CO (PRWEB) November 17, 2016
Honeymoons.com launched its Saddle Up Sweepstakes on November 13, 2016. Whether newly engaged, newly wed, or craving a winter escape, Honeymoons.com is offering the chance to win a 3-night getaway for 2 at Gateway Canyons Resort in Colorado. Interested participants should visit honeymoons.com to enter. Entries are being accepted from November 13, 2016 through December 13, 2016 at 8pm EST.
Perfect for a romantic vacation, mini moon or an unforgettable proposal, Gateway Canyons Resort is Colorado's #1 resort seamlessly blending western luxury with rustic accommodations. Located in the spectacular red rock canyons of western Colorado, Gateway Canyons Resort & Spa caters to the most discerning traveler with luxury guest rooms and suites – while delighting guests with savory dining options, wellness-focused treatments, and endless adventure.
Honeymoons.com is the leading source when planning a honeymoon, destination wedding or romantic getaway. The Honeymoons.com team helps plan adventures both big and small. Organized in a convenient and user-friendly format, Honeymoons.com features information ranging from hotels and destinations, to travel tips and planning tools. Highlighting hotels, cruises, tours and packages around the world, Honeymoons.com will help find the perfect exclusive getaway for all types of traveling couples.
Enter Honeymoons.com's Saddle Up Sweepstakes by December 13. A random winner will be selected from qualified entries.