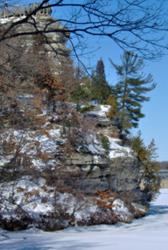 The changing of the seasons, especially winter, opens up a whole new realm of places to explore in Starved Rock Country.
Ottawa, Illinois (PRWEB) December 19, 2012
Winter vacation hibernation isn't a must in the Midwest; a common misconception. There's still plenty to do and vacations to be had during the winter months — many of them can be found in Illinois' Starved Rock Country along the picturesque Illinois River.
Sitting just 90 minutes from downtown Chicago, Starved Rock Country is a Midwest oasis with outdoor fun, exceptional dining and shopping, and a community chock full of unique, singular activities that can't be found in the same mix, anywhere else.
The team at Heritage Harbor Ottawa—premier resort community and marina in Ottawa, Ill.—hosts guests and homeowners from all over the Chicagoland area and further at its waterfront resort.
"There's a common misconception that northern Illinois shuts down during the winter and there's no fun to be had," says Tammy Barry of Heritage Harbor. "Nothing could be farther from the truth here in Starved Rock Country. The changing of the seasons, especially winter, opens up a whole new realm of places to explore. Talking to those who head to Heritage Harbor, winter is a favorite place around Ottawa, Ill."
Here is the Heritage Harbor team's Top 10 Winter Fun Tips for Starved Rock Country:
10. Get Creative with the Arts. Not only does the Illinois Valley have numerous art groups and individual artists offering workshops and classes, there are galleries all over the area displaying artwork of all mediums, such as Utica's ARTworks gallery. Ottawa is also a town of iconic murals. All with different themes, a mural can be found on almost every street of the city's downtown.
9. Stroll along the River. Ottawa, Illinois, has been dubbed The City of Two Rivers. It's where the Fox and Illinois Rivers meet in a valley of hills, canyons and waterfront towns. During the winter, Ottawa's various river walk areas are a place to find solitude during the peaceful winter season. Not to mention, it is a dog's paradise as well.
8. Get a Taste of Something Different. Starved Rock Country has so many dining options, it can be difficult to make a final choice. From romantic fine dining spots to local pizza connoisseurs vying for the love of the locals and tourists, there's a place for whatever the heart desires—even something a little different. Cajun Connection in Utica, Ill., is a restaurant that has garnered Midwest popularity. Some of the best Louisiana food faire outside of the bayou can be found at Cajun Connection. The fried alligator and southern pecan pie are restaurant favorites.
7. Take in the Night Life. Tourists love to hit up one of the local restaurants or bars to check out live music from a local or Chicago band, or simply for the ambience. Tracy's Row House in downtown Ottawa is a unique martini bar located in one of the city's brick row houses. On the edge of the water on the Illinois River, Tracy's Boat House at Heritage Harbor has a great waterfront view combined with the nightlife.
6. Hit up the Historic Sites. Starved Rock Country is a history buff's perfect place with countless historical museums and sites including the La Salle Country Historical Museum, Hegeler Carus Mansion, Ottawa Scouting Museum, Victorian-era Reddick Mansion, Utica's iconic one-room schoolhouse, Lock 16 on the Illinois River and more.
5. Cruise Downtown Ottawa on Foot. Ottawa's downtown is a Nationally Registered Historic District and is a popular place to pop in and out of gift shops, café's, coffee shops, all before ending in a stroll of Washington Square Park, the site of the first Lincoln-Douglas Debate. During the winter months, the entire park is decked out in lights. Snow only adds to the ambiance.
4. Eagle Watching. The Illinois River is a notorious winter eagle nesting ground, bringing visitors from all over the U.S. This year, Eagle Watch Weekend is Jan. 26 to 27, with hands-on and make-and-take activities for kids and connected activities at the Illinois Waterway Visitor Center. Spotting scopes are also available to get an up-close view of the creatures.
3. Wine Tasting. Wine tasting? Yes, wine tasting. Many do not know the Illinois Valley boasts award-winning vineyards and wineries. Local wineries in Utica, Ill., keep uncorking bottles throughout the winter season. While many visit the town's various cozy wineries for special tastings, Utica's Winter Wine Walk is also popular. On Saturday, Feb. 25, Utica will host the 5th Annual Winter Wine Walk in which attendees spend a fun afternoon tasting wine, specially paired with foods, and perusing the town's gift shops and restaurants.
2. Winter Sports. Cross-country skiing can be enjoyed at Starved Rock State Park's picnic area and at nearby Matthiessen State Park. Cross-country ski equipment can even be rented at the Matthiessen Dells Area on weekends from December through March. Snowmobiling is also a trip on the Illinois & Michigan Canal, which connect all the towns of Starved Rock Country. Ottawa is home to the best toboggan sledding hill around in Allen Park on the Illinois River's edge. Every new snowfall in Starved Rock Country brings out kids and adults of all ages to take a trip down the hill. There's also hot chocolate in thermoses to make the event a well-rounded winter affair.
1. Go Hiking in Search of an Icefall. There are ample hiking opportunities in the area with sights that can't be seen anywhere else in the world. There are waterfalls in 14 of the 18 sandstone canyons in Starved Rock State Park. In the winter, the waterfalls freeze creating spectacular ice falls. Some of the most scenic icefalls are found in St. Louis, French, Wildcat, Tonty, Ottawa and Kaskaskia canyons. Buffalo Rock State Park and Matthiessen State Park are also available for winter hikes. The best part? All of these sites can be seen for free. There's no admission to any of the parks.
For more information on Starved Rock Country and how you can experience it, contact Tammy Barry of Heritage Harbor at 815-433-5000 or tammyb(at)heritageharborottawa(dot)com.