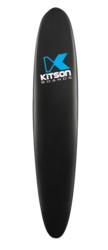 Just because it's winter time doesn't mean snow sports have to dominate. There are many regions in the USA where people enjoy sun sports all year long, not to mention avid paddle boarders who don't mind suiting up to enjoy their sport in any condition
Olympia, Wash. (PRWEB) December 02, 2012
Kitson Boards launched its holiday sale this week, marking down its entire inventory of paddle boards, surfboards, wake surfs and accessories for the entire month of December.
The recreational board manufacturer, which operates out of Olympia, Washington is known for it's ultra durable carbon fiber custom made to order boards.
"Just because it's winter time doesn't mean snow sports have to dominate," said Director of Communications, Heather Hoskins, "There are many regions in the USA where people enjoy sun sports all year long, not to mention avid paddle boarders who don't mind suiting up to enjoy their sport in any condition."
Founded by Michael and Denise Kitson, Kitson Boards, LLC headquarters is located in Olympia, WA. Kitson Boards are all crafted out of the ultra durable and long lasting carbon fiber material. All production of surfboards, paddle boards and wakesurf boards, as well as the people behind the brand are based in North America. Kitson Boards prides itself on outstanding customer service and only the finest in recreational boarding and accessories. Free shipping is available throughout the continental USA.