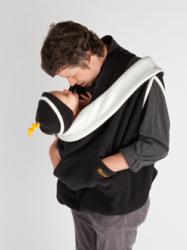 "The male Emperor Penguin was the perfect model for our line of baby gear because it's both aesthetically beautiful and very involved in child-rearing."
Providence, RI (PRWEB) September 25, 2012
Kowalli (http://www.kowalli.com) has just released a limited edition series of its fleece babywearing outerwear, consisting of a baby carrier cover, baby hat, and baby booties, that aim to make it easy for parents to get out and about with their babies in cold weather. The graphic black, white, and yellow color scheme – named the Penguin Series – was chosen for its gender-neutral appeal and in honor of the male Emperor Penguin, an animal dad renowned for its active role in nurturing its young.
"The male Emperor Penguin was the perfect model for our line of baby gear because it is both aesthetically beautiful and very involved in child-rearing," commented Kowalli Founder Alizah Holstein. "We wanted colors that would appeal to moms and dads alike, and that stood out from other baby products."
Emperor Penguin dads, made famous by the 2005 documentary film March of the Penguins, incubate their babies in extreme cold weather by balancing them – as unhatched eggs – on top of their feet for several grueling months while the mother penguin goes on a feeding break. After the penguin chick hatches, the mom and dad penguin then take turns caring for it.
As part of its limited edition release, Kowalli will employ its web presence and social media platforms to educate its audience on issues related to penguins and the fragile Antarctic ecosystem. Stefanie Mahon, Director of Sales & Marketing at Kowalli, commented, "Everybody loves penguins but a lot of people don't know much about them. We hope to use this opportunity to share what we've learned with our fans and in the process, do a little good for some penguins."
It is not coincidental that Kowalli highlighted dads by choosing the Emperor Penguin as the inspiration behind its limited edition product line. Modern fathers tend to be more involved in raising their children than a generation ago, and it has become increasingly common for men to become full time caregivers to their children. Recent United States Census Data reveal that since 2002, the number of men with working wives who serve as primary caretaker of children under fifteen has shot up to around 626,000 (The New York Times, August 12, 2012).
Women, however, are still the dominant buyers in American households. It is a well-cited fact that they influence fully 85% of purchases, though it is still unclear whether this trend is likely to be reversed by the greater number of stay-at-home dads. Holstein affirms: "A lot of women tell me they're choosing a certain color product because their husband can wear it too, but I don't see a lot of men taking the reins and choosing baby products on their own." For that reason, Holstein says, she designs some of her products to appeal to moms first, but without straying too far from dad-appropriate. Such a strategy has worked well in the tight economy, since many couples now search for one baby product in each category that will work for both parents, and even for subsequent children of the opposite sex.
In designing the Limited Edition Series, Holstein also saw in the Emperor Penguin a natural rendering of the high-contrast graphics that have been proven to stimulate newborn babies' vision. The Emperor Penguin's signature markings are its white belly, its black dorsal side and head, and its bright yellow ear patches. "The graphic, high-contrast colors are unusual in the sea of pastels that still populate the baby gear world," she said, "and we were excited about creating something that would appeal to parents as well as babies."
The Kowalli Penguin Series has so far been welcomed warmly and sales at Kowalli have spiked since its release. Wrote one female Facebook fan, "The new Penguin Love series is great…I love that it's gender neutral and daddy friendly!" At least for now, the buying trend appears to be on an even keel, with mothers, as usual, taking the lead.
Kowalli was founded in 2009 when Holstein, now mother two boys, designed the first Kowalli Baby Carrier Cover to keep her son protected from the elements. In a few short years, it has won a coveted Mom's Choice Award for Innovation in Gear and Accessories, and has become a wardrobe staple for active moms and dads around the United States and across the world. Kowalli is a mom-owned company, produces locally in New England, and is committed to socially responsible manufacturing.