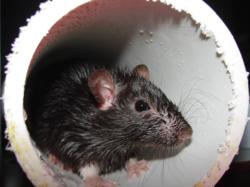 As colder temperatures draw closer, so will the threat of rodents in and around the home. Winterizing your home should focus on making it as difficult as possible for pests to enter.
PARSIPPANY, N.J., (PRWEB) September 24, 2012
As temperatures drop, prepare for the cold months ahead by winterizing your home. Experts from Western Pest Services, a New Jersey-based pest control company with branches throughout the Mid-Atlantic and Northeast regions, suggest that residents implement proactive pest management measures to protect their homes from pests who are seeking refuge from the winter chill.
Pests overwinter, or pass the winter season, a number of ways, including: migrating to warmer climates, entering into a hibernation state called diapause, or seeking shelter in buildings, homes or other man-made structures. Homes provide access to the elements pests need to survive – food, water and shelter - and are a common overwintering site for rodents and small wildlife.
"As colder temperatures draw closer, so will the threat of rodents in and around the home," said Phil Pierce, entomologist and technical services manager for Western Pest Services. "Winterizing your home should include more than just preparing your home for the season. It should focus on making it as difficult as possible for pests to enter your home."
Rodents pose serious health threats as they have the potential to transmit disease-causing organisms, such as Hantavirus and Salmonella, through urine, droppings and bites. Additionally, rodents are among the most destructive vertebrates, causing structural damage to the home by chewing through wood, plaster and electrical wiring. Making matters worse is the fact that rodents tend to be rapid breeders - one pair of mice has the potential to produce as many as 200 offspring in only four months.
Experts from Western Pest Services offer these tips to help prevent pests from seeking refuge in your home:

Seal any cracks or holes in your foundation with weather-resistant sealant.
Install weather stripping around windows and doors.
Cover large holes that could be used as entry points with copper mesh.
Cut back shrubbery at least three feet from the exterior of your home to eliminate harborage points and reduce ease of access to your home.
Eliminate moisture sources such as clogged gutters or standing water in trash or recycling bins.
Remove bird feeders to eliminate this easily accessible food source.
Store firewood at least 20 feet from the home and five feet off the ground.
"We experience an influx of rodent calls during the fall and winter," said Pierce. "Winterizing your home with a focus on pest prevention can help reduce your risk of infestation. However, if you see rodent feces, hear sounds of scurrying in the walls, or observe other signs of a possible infestation, contact a licensed pest professional immediately."
About Western Pest Services
Founded in 1928, New Jersey-based Western Pest Services provides quality pest control to residential and commercial customers with services including: termite control, bed bug detection and extermination, stink bug control, mosquito control and home protection plans. Serving the Northeast and Mid-Atlantic United States, Western is a wholly-owned subsidiary of Rollins, Inc. (NYSE: ROL). Learn more about Western by visiting http://www.westernpest.com. Connect with Western Pest Services on Facebook and YouTube, or on Twitter @WesternPestSrvc. Learn more about Rollins by visiting http://www.rollins.com.