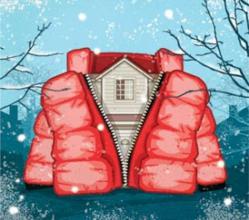 Many emergency calls during the holidays are the result of skipping out on basic maintenance; Winterizing can reduce the possibility of later – often costly – repairs
Fairhaven, MA (PRWEB) December 20, 2012
The holiday season is now in full swing. You've pulled your sweaters out from the back of the closet and found your mittens. But what about your house – is it prepared for the cold winter months ahead? Not preparing your house for the season is the equivalent of leaving your bedroom window wide open all winter, according to the experts at ProGroup Network, specialists for more than 20 years in both residential and commercial painting. "Most people can relate to that example," they say.
Many can also relate to the Department of Energy statistic that reveals taking steps to make your home more airtight and efficient can save families up to 25 percent on utility bills. Another benefit they add: Winterizing can reduce the possibility of later – often costly – repairs. "Many emergency calls during the holidays are the result of skipping out on basic maintenance like cleaning gutters, keeping the roof in good shape, insulating and caulking. They aren't always the most fun jobs, but we all know they need to be done." Even if you've neglected winterizing your home until now, there's still ample time to get the work done in time for cold days and nights to come over the holidays and into the New Year. Having worked on many different properties over their 20+ years, the New England based painting company ProGroup Network wants to share their years of experience with you. They have compiled this list of steps for the eager weekend warrior who wants to winterize their home before the cold really sets in!
1. Clean Gutters: Once the leaves fall, remove them and other debris from your home's gutters. This will ensure that the winter's rain and melting snow can drain. Clogged drains can form ice dams, in which water can back up, freeze, and cause water to seep into the house. While cleaning, use a hose to rinse out gutters and watch for leaks and misaligned pipes. Also be sure that the water is being carried away from the house's foundation, where it could cause flooding or other water damage.
2. Block Leaks: The average American home has leaks that add up to a nine-square-foot hole in the wall! To find leaks, on a breezy day, walk around the inside of the house with a lit incense stick or candle to the most common drafty areas. Purchase door sweeps and use caulk to fill gaps where cold air enters.
3. Insulate: While it does cost a bit of money and may be a bit much for the weekend warrior, adding insulation to the existing insulation in the attic can be a huge cost savings. "Regardless of the climate, you need a minimum of 12 inches of insulation in your attic. If you see your ceiling joists, you know you don't have enough, because they are typically 10 to 11 inches," says the experts at ProGroup Network.
4. Check Furnace: Turn your furnace on before the coldest weather descends. A strong, odd, short-lasting smell is natural when starting the furnace in the fall; simply open a window to help it dissipate. If the smell persists, shut it down and call a professional. Also be sure to change the furnace filters regularly.
5. Check Your Ducts: The U.S. Department of Energy claims a home with central heating can lose up to 60% of its heated air before the air reaches the vents if ductwork is not well connected and insulated. While ducts are not always easy to see, you can typically find them in the attic, basement and crawlspaces. Gaps should be fixed with a metal-backed tape, while places where pipes are pinched should be repaired.
6. Windows: Now is the time to take down window screens and put up storm windows, which provide an extra layer of protection and warmth.
7. Don't Forget the Chimney: You should always have your chimney inspected before using it the first time in a season. You can also purchase a protective cap for your chimney, with a screen, that can help prevent foreign objects from entering and from rain mixing with ash to eat away at the fireplace's walls.
8. Wrap Pipes: A burst pipe caused by winter weather can be a nightmare. Prevent a catastrophe by ensuring that your hose bib is shut off inside your house via a turnoff valve, and that the lines are drained before freezing nights hit. In addition, check pipes that run through unheated spaces like crawlspaces, basements and garages, and wrap them with pre-molded foam rubber sleeves available at hardware stores.
9. Reverse the Fan: One of the smallest solutions, reversing a ceiling fan's direction will push warm air downward and force it to re-circulate, keeping you and your family more comfortable. Blades should be turning clockwise during the winter months.
10. Check Alarms: Traditionally, this is the best time to check your home's smoke and carbon monoxide detectors – and to replace the batteries. Generally speaking, all detectors should be replaced every 10 years.
The painting professionals at ProGroup Network encourage all homeowners to follow these simple steps to ensure the safety of your family and home this holiday season. For more information or to explore the building maintenance and surface repair solutions provided by their team, including residential and commercial painting, power washing, dry wall and EIFS repairs and epoxy applications, they invite you to visit them on their website: ProGroupNetwork.com. Happy Holidays!