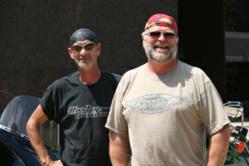 We want to make sure our bikes are in top shape for our adventures next year, so we follow some important steps for winter storage.
Grand Rapids, MI (PRWEB) October 28, 2011
Bill and Jack have taken us on adventures in 2011 as they cruised classic car shows, visited national landmarks and journeyed to bike rallies. The Foremost® blog was their outlet for adventures on the road and now it's time for one last adventure of 2011, winterizing their bikes in preparation for Michigan's winter season.
"Jack and I know that our motorcycles need to be taken care of on the road and off. Through our adventures we have learned some tricks to keeping our bikes in prime condition," says Bill Koeller, facilities manager. "We want to make sure our bikes are in top shape for our adventures next year, so we follow some important steps for winter storage."
Bill and Jack know a few things about motorcycles and want to make sure your bike is ready to ride in the spring. Here are some winterizing tips from Foremost Insurance Group that will help ensure your bike gets a nice winter nap:

Fuel tank care. Adding fuel stabilizer will slow down the fuel from getting thick and gummy. Ideally, add the fuel stabilizer when your tank is almost empty, and then take the bike for a two mile ride to empty out the tank.
Keep the bike looking good, even in storage. Who wants to clean 4 month old dirt off a bike when you get it out in the spring? Cleaning and polishing your bike will ensure easy preparation for your first ride of the season.
Snuggle up your ride. Covering your bike during the winter months helps prevent rust and mildew from gathering on your bike. It's advised to use a fitted, breathable cover to help with ventilation.
Put that bike up where it belongs. If your bike sits in the same position for months, the tires may ware unevenly. Use motorcycle stands to keep the tires off the ground.
Take care of what powers your ride. It makes sense to store your battery separately from your motorcycle, but never on a cement floor. Also, charging it every couple weeks with a trickle charger will help keep it fresh.
Bill and Jack will be back next year for another adventure and want you to be safe in your travels. To learn more about Foremost products or share feedback, visit http://www.Foremost.com, visit Bill and Jack's Adventure on our blog at blog.foremost.com, our Facebook page at http://www.Facebook.com/ForemostInsurance or our Twitter page at http://www.Twitter.com/Foremost.
A part of the Farmers Insurance Group of Companies®, Foremost Insurance Group ("Foremost") has been a leader in personal lines insurance since 1952. Foremost is headquartered in Caledonia, Michigan. Farmers is a trade name and may refer to Farmers Group, Inc. or the Farmers Exchanges, as the case may be. Farmers Group, Inc., a management and holding company, along with its subsidiaries, is wholly owned by the Zurich Financial Services Group. The Farmers Exchanges are three reciprocal insurers (Farmers Insurance Exchange, Fire Insurance Exchange and Truck Insurance Exchange), including their subsidiaries and affiliates, owned by their policyholders, and managed by Farmers Group, Inc. and its subsidiaries. For information about Farmers, visit http://www.Farmers.com.
Contact:
Renee Kolzow
(616) 956-4669
renee(dot)kolzow(at)farmersinsurance(dot)com
# # #