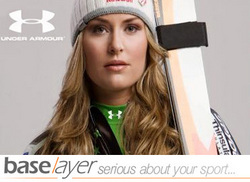 (PRWeb UK) February 11, 2010
As the countdown to Vancouver 2010 continues American performance clothing giants Under Armour appear to be in a league of their own when it comes to the signing of top medal hopefuls.
The 2010 Winter Olympics have brought many opportunities to both athletes and sponsors alike, the real opportunity has come for Under Armour to build on its own US varsity dominance and grow their already strong brand internationally. During the next 17 days the Winter Olympics' coverage is being extended for the first time to include its sponsors and how they finally rank in medal order.
Because of the unprecedented commercial and media coverage BaseLayer, a top UK on-line retail outlet will cover this year's Winter Olympics to find out to what extent Under Armour will dominate this year's games. With endorsed medal hopefuls in Freestyle, Bobsled, Skeleton Bob, Curling, Snowboarding, Ice Hockey, Downhill, Alpine it is probable that Under Armour would be placed above a majority of competing nations when the final leader board is published come the 28th of February.
With huge names like the two time world champion poster girl Lindsey Vonn and Ice Hockey super star Rick Nash competing in their corner, Under Armour have put their money where their mouth is when it comes to maximum publicity and maximum medal opportunities.
Team Sweden have other ideas as they set their sights on 10 Winter Olympic medals. This potential and proverbial thorn in Under Amours' side puts greater pressure on Anja Pearson who is Lyndsey Vonn's greatest threat already on form from last week winning the Super-Combined event at St Moritz. Team Sweden also makes a statement by fielding a veteran Ice Hockey team looking for that crucial big game experience when the tournament gets to its business end.
Canadian Alpine Skier Manuel Osborne-Paradis could provide Under Armour a knockout blow more devastating than one from Georges Saint Pierre, Under Amours biggest MMA signing to date. Canada remains the only host nation in Olympic history not to have won a gold medal on their home soil. They failed in both the summer Olympics in Montreal, and again in the 1988 in Calgary. The hopes of a nation will be resting on the big shoulders of Manuel Osborne-Paradis and the medal seeking Canadian Curling team.
The reasons why so many athletes are using Under Armour are because since the mid 1990's, Under Armour has led the field in technical sporting apparel and has set benchmarks for compression and non compression technical apparel clothing.
The devil is in the fabric and the stitching claims many Under Armour suppliers and end users alike, the ColdGear range especially will be this year's main Winter Olympic warmer. Using enhanced thermal protection as standard with unique moisture management means you will stay dry and warm whatever the event. The 'four way stretch & recovery' system revolutionized the way athletes can now move which means you can bend and twist in any direction whilst maintaining complete support and a complete range of movement.
Low profile seams, laser welded seams, reinforced flat-lock seams, it seems Under Armour have a seam for all occasions and have clearly invented and invested heavily where it counts not just in the quality of its end product but also in the quality of its endorsements. I would expect Under Armour to have picked its winners at this year's Winter Olympic Games with accuracy and precision just like its ColdGear clothing range. Come February the 28th BaseLayer will have the answer and will find out if Under Armour truly does give you a winning performance.
###