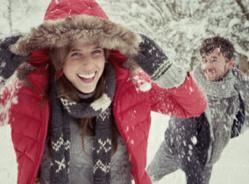 WinterStays focuses on winter vacation rentals worldwide, and gives owners the opportunity to promote their ski chalets to a targeted audience: the billion dollar Ski Industry
Denver, CO (PRWEB) November 13, 2012
A new vacation rental site for winter lovers and ski bums has just launched, and it plans to change and improve the way skiers search and book their next ski holiday.
"... the idea came to us while searching online for a ski chalet last winter - we found the whole process very time-consuming, frustrating and difficult - we thought there had to be a better way, so we created WinterStays ..." - says Sofia von Porat, co-founder of WinterStays.
Now ski chalet owners can list their properties on WinterStays, an international winter vacation rental site that provides travelers a platform to find and book ski accommodation around the world.
While there are other general vacation rental sites out there, WinterStays claims to be different.
"... we focus on winter vacation rentals worldwide, and give owners an opportunity to promote their ski chalets to a targeted audience - the billion dollar Ski Industry, while at the same time they are able to reach across borders to an international market ..." - explains Nathan Schacherer, co-founder of WinterStays.
Hosts are in complete control of their properties and can choose to rent them out privately or through the WinterStays secure booking system.
WinterStays aims to make finding and booking the best ski accommodation easy and hassle-free, so that ski enthusiasts can instead focus on having an amazing winter vacation.
To celebrate their launch this week, they are giving hosts a chance to list their property for a promotional price of only $1 for 6 months - hosts can sign up here: http://www.winterstays.com
About WinterStays:
WinterStays is an international vacation rental site focused on winter accommodation. Their mission is to promote the best winter accommodation around the world - they simplify searching and booking ski accommodation, and make it easy for owners to advertise their properties to a targeted audience.
For more information, visit: http://www.winterstays.com
Contact:
To learn more about WinterStays, or schedule an interview with one of the co-founders, please contact our PR department at press(at)winterstays(dot)com