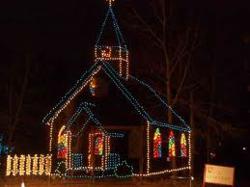 More than 38 charities benefited from the event last year and local volunteers made it all possible.
Brainerd/Baxter, MN (PRWEB) February 29, 2012
"When a community comes together to promote and support an event such as the SERTOMA Winter Wonderland at the Northland Arboretum, beautiful things happen!" said, the Executive Director of Visit Brainerd. "More than 38 charities benefited from the event last year and local volunteers made it all possible."
The Brainerd - Baxter area's combined population of 22,000 belies the true spirit of a small town that really cares about friends, family and neighbors. In this atmosphere, holidays remain a very special time to share, and to create special memories and traditions with friends and family that endure through the generations. In 2007 the Brainerd Area Sertoma Club decided to create a new Holiday Family Tradition in the community that would be unique and unforgettable.
Winter is a magical time in Minnesota and the Christmas season is really special. The SERTOMANS have created a breathtaking display of lights to capture the spirit of the season. Delighted visitors drive through the amazing Wonderland of lights featuring over 60 animated displays reflecting off the sparkling white background of pristine snow. From the very old to the very young, everyone can enjoy the Winter Wonderland from their own comfortably heated vehicle.
Last year 25,000 visitors from 9 countries, 37 states and over 500 different communities made the slow drive through the Northland Arboretum's forests, resulting in grants to 38 worthy organizations!
The Visit Brainerd Association is providing discounted tickets to view the Winter Wonderland at 10 of its member properties! Winter Wonderland" will be open from November 24, 2012 through January 1, 2013.
More and more families have incorporated a drive through the displays into their family's annual holiday traditions. Having once experienced a holiday season in the beautiful north country of Minnesota, many families return year after year to share the experience with their children who, in turn, share the same with their own children. The SERTOMA Winter Wonderland is just one of the countless activities designed to entertain all members of your group.
The VisitBrainerd.com website provides information on all sorts of community events to complete your holiday visit to the land where winter is celebrated in grand style!
The Director of Visit Brainerd is available to assist in the planning of individual or group visits with extensive knowledge of the wide variety of Brainerd hotels the association represents. Individuals, families or groups, the Director can recommend the perfect property to suit any budget.
Discounted tickets to enter the Winter Wonderland display are available at: The Lodge and Paul Bunyan Water Park, Country Inn and Suites, Comfort Suites and Rapid River Indoor Water Park, Holiday Inn Express Three Bear Lodge and Water Park, Roadway Inn, America's Best Value Inn, Super 8 Motel, AmericInn Lodge and Suites, Crossings Inn and Suites and the Brainerd Hotel and Conference Center. (Also a member, the Lum Park RV Park is closed during the winter months.) You may pick up discounted tickets at any of the lodging properties listed here. For more information, visit the website at http://www.VisitBrainerd.com
###