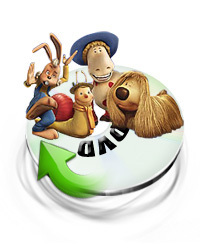 We are very pleased to be able to offer WinX DVD Ripper Platinum to backup DVD movies of the newest DVD copy protections for our customers. WinX DVD Ripper Platinum add this new capability based on the requests from our customers who would like to backup
West Palm Beach, FL (PRWEB) December 8, 2009
Digiarty Software, a leader in DVD and video solutions announced today that WinX DVD Ripper Platinum, a comprehensive DVD ripping tool has upgraded with new features which can effortlessly bypass the new generation DVD copy protections for personal use.
"We are very pleased to be able to offer WinX DVD Ripper Platinum to backup DVD movies of the newest DVD copy protections for our customers. WinX DVD Ripper Platinum add this new capability based on the requests from our customers who would like to backup the DVD movies published recently by those famous movie distributors since new DVD copy protections are adopted," said CEO of Digiarty, " WinX DVD Ripper Platinum is designed to resolve this problem and let common people to backup new copy protected DVDs for personal use. Digiarty is one of the handful Merchants who could provide solution to backup DVDs of these new DVD copy protection technologies."
It is well known that numerous DVD copy protection technologies are widely used for DVD movies and works actually to prevent a DVD being converted to hard drive as general video formats. However, a way round it is never that far behind, most DVD ripper tools in the market are available to backup general protected DVD without any difficulties. But meanwhile new advanced DVD copy protection technologies are coming forth in the DVD movies newly released by Disney, Paramount, Warner Home Video, and many others. To backup DVD published by these film distributors is no longer an easy task as it was before.
DVD movies released recently like Transformers 2, Star Trek 2009, Up, The Proposal, The Dark Knight and WALL-E all won overwhelmingly popularity around the world. They are obviously the best choices for DVD collection fans. But one thing comes up making them feel frustrated, that is all these DVDs are well protected with latest DVD copy protection technology, so it is not possible for them to backup them to hard drive and prevent from any physical damages or loss. WinX DVD Ripper Platinum is constantly updated to support latest DVD copy protections. And with user-friendly interface, it has been tested and proved to be able to backup these DVD movies in few clicks.
Besides the ability to copy protected DVD, WinX DVD Ripper Platinum also improved a lot on the ripping speed. It has been the fastest DVD ripper software with highest video quality in the world according to the customers' feedback and multiple tests.
More information about this advanced DVD ripper software could be found here: WinX DVD Ripper Platinum
Anyone with protected DVD collections in hand can download WinX DVD Ripper Platinum for a try right now. Free Download WinX DVD Ripper Platinum. One thing need to specify is that this DVD ripper is only allowed to be used for home users to make DVD backup for personal use and it is not legal to give, sell, or otherwise distribute the copies to anyone.
Pricing and Availability
WinX DVD Ripper Platinum is complete solution for DVD movies with new generation DVD copy protections. It allows users to rip protected DVD to various video formats, including: AVI, FLV, MP4, MPEG, WMV, Apple iPhone, iPod, Apple TV, PSP, Zune and some mobile phones, etc. The original price of it is $39.95, now it is on holiday promotion for $29.95 only.
About Digiarty Software Inc.:
Established in 2006, Digiarty Software Inc. is a multimedia software provider specialized in DVD and Video related solutions, like Free DVD ripper, Free Video Converter, DVD author, DVD Copy, etc. Aims at being the best digital media company, Digiarty is always devoted to continuous development and providing their customer advanced products and best services. For more information, please visit: http://www.winxdvd.com/.
###