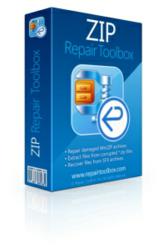 ZIP Repair Toolbox, the most advanced and yet easy to use solution of its type on the market.
Sacramento, CA (PRWEB) May 22, 2013
Repair Toolbox, an expert in data recovery and file repair solutions for professional and mainstream applications, announces the release of ZIP Repair Toolbox, a powerful WinZip repair tool that enables users to extract files from damaged WinZip archives in a quick and efficient manner without resorting to expensive third-party recovery services. Based on an advanced recovery engine and several file analysis algorithms, the software minimizes the downtime caused by file corruption after all kinds of incidents: from hardware failures and power shortages to broken downloads and virus attacks.
This WinZip repair tool features a highly intuitive wizard-driven interface that makes it perfectly suitable for professionals and novices alike. ZIP Repair Toolbox efficiently restored data from ZIP archives of all versions, supports recovery from self-extracting archives, files with incorrect CRC values and files over 2 GB in size. The product is fully compatible with all major versions of the Windows OS, from 98 to 7, and features a built-in viewer for previewing the content of damaged archives prior to recovering it.
Download WinZip repair tool from official site: http://www.repairtoolboxx.com/download.html
"ZIP Repair Toolbox is our latest release with tons of speed- and efficiency-wise improvements that we hope our new and existing customers will really appreciate," says Ivan Bobrov, Lead Developer at Repair Toolbox. "Thanks to the updated engine, recovery of huge archives is a lot easier now and the efficiency of the process is truly outstanding."
The trial version of this WinZip repair tool can be downloaded from the official website free of charge.