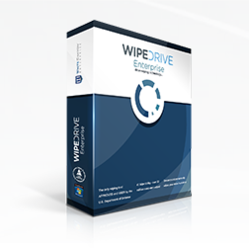 WipeDrive 7 aims to change the traditional standard for hard drive erasure software by making it simple for enterprises to securely wipe any computer they manage, in both local and branch offices, all from a single location.
AMERICAN FORK, UTAH (PRWEB) November 14, 2012
WhiteCanyon Software Inc. today announced the launch of WipeDrive 7, the first and only NSA EAL4+ certified hard drive erasure software that makes it easy for IT professionals to securely and permanently erase hard drives. WipeDrive is the industry's most trusted hard drive erasing software and is used exclusively by the U.S. Department of Defense and U.S. Air Force, as well as leading private sector enterprises such as Deloitte and Humana. This seventh major release of the WipeDrive product focuses on simplifying the complexities that enterprises face in protecting their confidential corporate data and customer information when retiring or recycling computer hardware. The release gives enterprises the ability to wipe computers located in remote locations such as branch offices that may not have a dedicated IT staff.
"WipeDrive 7 aims to change the traditional standard for hard drive erasure software by making it simple for enterprises to securely wipe any computer they manage, in both local and branch offices, all from a single location," said Nathan Jones, VP of Business Development and Sales at WhiteCanyon. "Our remote wiping technology revolutionizes the wiping process by allowing IT staff to remotely wipe any computer on their network without ever having to touch or move it. This new feature has large implications for companies, such as banks and pharmacies, who want to securely manage their branch computers from a centralized location."
For many companies that store business, medical, or personal financial information on hard drives, simple deletion will not protect the data when disposing of the equipment. While the operating system cannot reference a deleted file, file recovery programs can continue to locate the 'deleted' data. This makes companies and their customers vulnerable to identity theft issues, data loss, and intellectual property crime. Federal laws such as HIPAA, Sarbanes-Oxley, Graham-Leach-Bliley or other state laws can also lead to legal liabilities and even criminal penalties. As a result, enterprises rely on products like WipeDrive to permanently and securely erase all hard drive data to protect their private information and give them the option to recycle and reuse computers and other devices.
"Our customers include leaders in industries, such as healthcare, military, and finance, where protecting personal information is of paramount importance," added Jones. "The customer trials with the new WipeDrive 7 release prove that the product not only permanently erases all sensitive data but makes it easy for IT teams to manage the hardware retirement process, regardless of operating system, hardware type, language, or Internet connectivity. It is a critical component of any I.T. security program."
Key WipeDrive 7 Features
In addition to performance enhancements and improved hardware support, WipeDrive 7 includes a variety of new features including:

Remote Hard Drive Erasure
RAID Support
Windows 8 Support
Greater customization of reports and wiping configurations
Pricing and Availability
WipeDrive 7 Enterprise Edition is available immediately. For pricing information or to request a trial, contact sales(at)whitecanyon(dot)com for more information.
WipeDrive 7 Webinar Demonstration
For a demonstration of the new WipeDrive 7 product and to answer any hard drive erasing questions you may have, please register for the upcoming free WipeDrive 7 Webinar (https://attendee.gotowebinar.com/register/5279914556266345728) to be held November 19, 2012 at 9:00 AM PST/12:00 PM EST.
For more information on the WipeDrive product, visit: http://www.whitecanyon.com/EnterpriseWipeDrive
About WhiteCanyon Software Inc.
WhiteCanyon Software, Inc. is the leading U.S. provider of data destruction software, allowing consumers, enterprises, and government organizations to prevent data breaches by securely and permanently erase data from retired or recycled hard drives and other hardware storage. WhiteCanyon's flagship product, WipeDrive, is the only software certified to the NSA's EAL 4+ security standard, making it the most highly-certified erasure software on the market.
WhiteCanyon's customer base spans individuals, small to medium-sized businesses, Fortune 500 companies and government institutions, including NASA, IBM, the U.S. Army and Airforce, Sony, the United States Postal Service, and more . In the consumer market, WhiteCanyon's products can be found in leading retailers Best Buy, CompUSA, Fry's, Amazon.com, and MicroCenter. Additionally, WhiteCanyon has implemented a site licensing program targeted at businesses, corporations, and government suppliers and entities with sizable implementation needs. For more information, please visit http://www.whitecanyon.com.