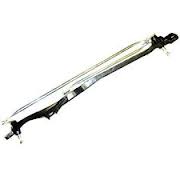 This linkage can be difficult to locate in local auto parts stores and is now part of the inventory for sale to buyers.
Cleveland, Ohio (PRWEB) May 16, 2013
Parts and accessories that are used in the manufacturing of automobiles include many essential parts other than motors and transmissions. Windshield wipers are a useful safety tool and required for all motor vehicles. The AutoProsUSA.com company is now helping to connect buyers online with parts useful for maintaining these crucial safety devices. This company is now providing wiper transmission parts online. This linkage can be difficult to locate in local auto parts stores and is now part of the inventory for sale to buyers. The parts and current pricing offered can now be searched at http://autoprosusa.com/used-wiper-transmission-parts-for-sale.
The standard windshield wipers that are used for foreign and domestic vehicles requires a series of parts working together to provide uninterrupted performance. The wiper motor, blades and transmission linkage are essential parts that often require maintenance to provide unrivaled performance.
Due to the delicate nature of these parts, some retailers do not stock these parts and require ordering directly from an automotive dealership. The transmission parts that are now discounted and sold online are genuine units that are provided on the new and improved Auto Pros USA website.
Aside from the discounts published online, additional incentives have been developed and put in place by this company in 2013. The lowering of shipment fees is one example of the new ways that are being used to build a larger parts buyer network in North America. While some companies can often raise parts shipment pricing,
The AutoProsUSA.com company has now lowered the costs that are required to ship replacement parts to all destinations in the U.S. The lowering of these prices combined with the recently discounted price structures announced are helping to introduce more trusted buying options for parts online.
The issuance of the company toll-free support center this year is now giving parts buyers access to the customer service levels that are now offered by the Auto Pros company. The toll-free number at 1-888-230-1731 is now used as the main source of contact by buyers who have questions or require immediate price quotes over the phone.
This number is staffed with auto industry parts experts who lookup part numbers, quote pricing and give helpful information about installations to buyers. The introduction of this number is in comparison to the online quote system announced earlier this year that now provides some of the same information upon use.
About AutoProsUSA.com
The AutoProsUSA.com company is one example of a used parts seller that has expanded its business online by raising the quality of its parts inventory and customer service. This company has boosted its sales this year by making subtle changes to its company policies. The issuance of warranty coverage, faster shipments and online quotation systems has created new opportunities for buyers to benefit. The AutoProsUSA.com company website was recently relaunched with better technologies to provide easier parts lookup and pricing on the Internet. This company is owned by industry experts and future policy changes are expected before the close of the year.