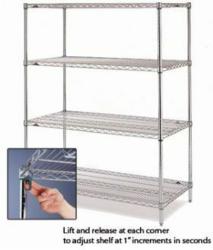 Customers Are Wild For A Plus Warehouse Wire Shelving
Boston,MA (PRWEB) December 11, 2012
Customers are wild for wire shelving nationwide. Wire shelving is a hot selling line at A Plus Warehouse for a variety of reasons. Unlike traditional industrial shelving, wire shelving has an attractive retail style allure and is quite aesthetic. With the advent of square posts, wire shelving capacity has moved into the industrial capacity range. Customers count on A Plus Warehouse for Metro Wire Shelving as well as the ever popular Amco Shelving.
According to Ed Stairman, " Customers are wild for wire shelving due to the amazing price point offered by A Plus Warehouse. Also , wire shelving is a stock product line" Clearly , getting a product like wire shelving shipped very quickly from regional warehouses at a low price is reason to be wild for the product line.
There are a few interesting popular wire shelving items that A Plus Warehouse sells regularly that merit some attention.
1. Metro Shelving : Metro shelving can be most easily understood by an analogy. Metro is to wire shelving as Kleenex is to tissues. Customers request Metro by name , and the Metro Max and other Metro Lines are always crowd favorites
2. Amco Shelving : Amco is credited with being the promulgator of square posts. The Amco square post increased wire shelving capacity over 25 percent. Now square post wire shelving is readily available from a wide range of suppliers – many of which are A Plus Warehouse lines.
3. Stainless Steel Wire Shelving : Customers should order stainless steel wire shelving when sanitation is a concern. High tech firms also tend to use stainless steel as it is better than chrome or epoxy for some reason that your neighborhood Phd can describe.
4. Quantum Double Deep Wire Shelving: The very same Quantum Plastics that brought the Ultra bin to the market now has imported wire shelving as well. This addition makes perfect sense, since plastic bins are used on shelving units. Quantum's innovation is in doubling wire shelving depth so pallet sized bins can be stored. A Plus Warehouse is pleased to provide customers with interesting new products from a range of vendors including Quantum Plastics.
5. Wire Shelving Carts: Take a shelving unit and add casters. This produces a material handling cart that works in any warehouse.
6. Corner Wire Shelving: A Plus Warehouse provides a nice wire shelving solution that fits into any corner. These shelving units have only three posts , and triangular wire chrome shelves.
This is enough to make a country wild about wire shelving , but A Plus Warehouse is also offering a five percent discount through the end of January 2013 for any customer that gets wild about wire shelving. The discount would be applied to the normal website price and is applicable to all chrome and stainless wire shelving orders.