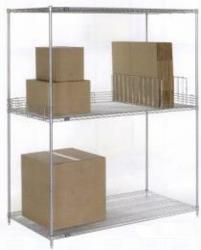 A Plus Warehouse is the best choice for Wire Shelving
Dallas,TX (PRWEB) May 15, 2013
Chrome Wire Shelving is a popular line at A Plus Warehouse. This spring, A Plus Warehouse is offering flat rate business to business shipping for any Imported Chrome Wire Shelving order by Nexel. Spring is a great time for customers to organize warehouses and storage areas, and the flat rate shipping program encourages customers to take advantage and procure wire shelving.
Nexel imports quality chrome shelving from Asia and offers a great price to quality ratio. In the old days , imported wire shelving was considered to be of inferior quality. Modern Asian Chrome Wire Shelving is manufactured to exacting detail – in many cases by the same robots used by domestic manufacturers. Nexel adds a level of protection by inspecting all containers of equipment as part of their overall total quality management program.
The program will be very simple. Dock to dock business deliveries of Nexel brand Chrome Wire Shelving will ship for a rate no greater than $200. A very small order for a few posts may have a shipping rate of quite a bit less than $200 – but a full truckload $50,000 order will have a freight rate of only $200
There are many types of wire shelving customers should consider:
(1) Ultra deep wire shelving – A Plus Warehouse stocks Chrome Wire Shelving that is 36 inches deep! Typically , wire shelving is no deeper than 24 inches
(2) Wire Shelving With Clear Bins – Combine shelving with bins! By combining the two in one model number , customers are sure to get optimally designed shelf bin units
(3) Metro Wire Shelving – No one has ever been fired for buying Metro brand shelving. For discerning customers, A Plus Warehouse ships genuine InterMetro wire shelving very quickly.
(4) Eagle Wire Shelving – Eagle wire shelving can be customized to most any requirement – including high tech applications
(5) Quantum Plastics – Although quantum is a plastic bin manufacturer , they also do a nice job with wire shelving , and there is a discounted shipping promotion covering much of the Quantum Storage line as well.
Customers order from A Plus Warehouse not only for their special freight promotions, but also for their overall level or service. According to Ed Stairman, "When a customer needs wire shelving – A Plus Warehouse is the best choice" As a small business, A Plus Warehouse needs to constantly show value to their customers. This is done through close attention to detail , speed in processing quotes and orders , and always courtesy. The company well knows that customers have a choice where to order , and they try to make A Plus Warehouse a compelling option. A Plus Warehouse also offer quick ship times for wire shelving of all sorts.
Customers are encouraged to call 800-209-8798 to place an order or to request a quotation.