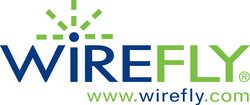 The creative team was challenged with juggling six brands in one spot – AT&T, Verizon Wireless, T-Mobile, and Sprint, plus BlackBerry and Wirefly.com.
Reston, VA (Vocus) February 3, 2010
Wirefly (http://www.wirefly.com), the Internet's leading online retailer of cell phones has been honored with a 2010 Gold Pixie Award (http://www.pixieawards.com) in the category of Animation for their most recent national commercial campaign "Shop Wirefly.com".
The television campaign, launched in 2009, was designed and developed by direct response advertising agency, Hawthorne Direct with the goal of promoting the Wirefly brand and driving direct sales for Blackberry Curve smartphones. Using a marriage of 2D and 3D animation and model texturing, viewers were tantalized by computer generated BlackBerry Curves streaming across their TV screens and promises of great savings, no rebates, fast free FedEx shipping and The Wirefly Satisfaction Guarantee.
"The creative team was challenged with juggling six brands in one spot – AT&T, Verizon Wireless, T-Mobile, and Sprint, plus BlackBerry and Wirefly.com," said Scott Ableman, Chief Marketing Officer of Simplexity, parent company of Wirefly.com.
He added, "Hawthorne Direct's creative team proved that offer-driven direct response advertising can also be beautiful and cutting edge. The animation really showcased the beauty of the BlackBerry Curve smartphones while delivering on the Wirefly brand promise."
"We are very proud of our quality Direct Response Television work with Wirefly.com, the premier site for cell phones and wireless phone plans. The creative allows the product – the Blackberry Curve smartphones via Wirefly to truly be the focus and is a winning example of great DR," said Chairman, Founder & Executive Creative Director Timothy R. Hawthorne.
Founded by the American Pixel Academy, The Pixie Awards honors outstanding work in the fastest-growing area of the world of moving pixels: animation, motion graphics and effects. Entries are judged on a standard of excellence by top industry professionals and were based on creativity, graphic design and overall execution.
About Wirefly
Wirefly.com is America's trusted source for cell phones and wireless service plans. Owned and operated by Simplexity, Wirefly.com is the Internet's #1 authorized dealer for every major cellular carrier in the U.S. Wirefly.com also offers discounts and services not available in retail wireless stores, including real-time online order status and tracking, and the guaranteed lowest price – online or anywhere else -- on cell phone devices from Motorola, Nokia, Samsung, LG, BlackBerry and many other cell phone handset manufacturers. Wirefly.com has been named Best of the Web by Forbes magazine as the "best all-around number portability portal" and "Best in Overall Customer Experience" by Keynote Performance Systems. For more information on Wirefly.com, its wireless products and its services, visit http://www.wirefly.com.
Contact
Megan Murray
Simplexity
703.657.4102
Note: The BlackBerry Curve offer, as mentioned in the video, has expired.
###