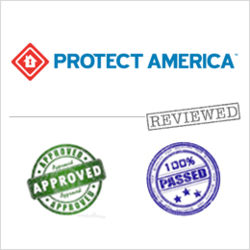 Protect America has a great wireless service and a great DIY security system that impressed out experts.
Cleveland, OH (PRWEB) December 19, 2012
The home security and alarm system experts at AlarmSystemReport.com have completed their Protect America review and updated their 2013 annual rankings of best wireless alarm system companies to reflect Protect America's nearly perfect rating. (The company scored 4.5 out of a maximum 5. Only one company, FrontPoint Security, has ever rated higher than that on AlarmSystemReport.com's standardized benchmark system.)
Several factors contributed to Protect America's high rating and overall #2 ranking on the list of best wireless alarm system service providers.
Perhaps most important for budget conscious consumers is Protect America's minimal upfront costs. Several monitoring service plans come with no upfront costs, while others offer homeowners substantial savings for the most robust home alarm system packages. Protect America even further reduces costs by offering easy to install, wireless DIY alarm systems that can lead to substantial savings on installation costs. Because these systems do not require any wiring or complex integration with phone lines, even homeowners with no technical experience can typically install them with any problems.
In addition to the substantial value and cost savings that Protect America offers its customers, the company also delivers a high degree of reliability. By using high grade equipment with robust manufacturer's warranties, Protect America ensures that every customer receives equipment that's designed to last and function in inclement weather and other adverse environmental conditions.
Other important factors in determining the company's ranking was its strong, established customer base of over half a million homeowners and businesses, its close relationship with General Electronics (and its use of many of the company's components), and its diverse selection of monitoring services. In additional to its strong wireless capabilities, Protect America's cellular home alarm monitoring and notification system was specifically highlighted as a customer favorite that boasts a number of advanced options.
"Protect America has done an especially good job of keeping pace in what's become a challenging technological environment," explained Steve Ordona, head of public relations at AlarmSystemReport.com. "What these security companies are faced with is an constantly evolving market with new technologies literally coming out every month. Protect America has done a great job of embracing this new torrent of innovation by developing some of the best wireless alarm systems on the market today."
In addition to Protect America, AlarmSystemReport.com has cited a number of other high performing home security and alarm system companies, including ADT Security, LifeShield Home Security, Vivint Security, and FrontPoint Security. All of these companies have received at least a 4 on the company's 5 point rating scale.
About AlarmSystemReport.com
AlarmSystemReport.com is a leading consumer information, research, and advocacy organization which aims to deliver fact based, unbiased information and analysis about the home security and alarm industry. The company's independent group experts, investigators, and writers conduct ongoing analyses and evaluations of all of the leading home security companies with a focus on both quality of service and product reliability, especially in the do-it-yourself, cellular, and wireless alarm system niches. AlarmSystemReport.com also provides additional coverage of home security system reviews and home safety tips, all freely available on its website.
###