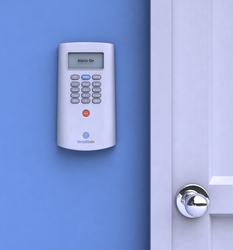 We simply felt that cellular is the new gold standard for alarm monitoring.
Boston, MA (PRWEB) March 1, 2010
AT&T recently told the FCC that the death of landlines is a matter of when, not if, as mobile phone users continue to "cut the cord" and abandon telephone landlines. In this environment, it's surprising that many home security companies cannot offer service without a landline. Those that do offer cellular alarm monitoring often burden their customers with much higher monthly fees and charge extra for cellular equipment.
Not SimpliSafe, Inc.
Every SimpliSafe wireless home security system is equipped with a built-in cellular module and the company offers a flat $14.99 rate for its alarm monitoring service, including the cellular connection. That's 50-70% less than traditional alarm companies charge.
"With major telecom companies pouring billions into their wireless data networks and selling off their landline businesses, we simply felt that cellular is the new gold standard for alarm monitoring," says SimpliSafe CEO, Chad Laurans. "The dirty secret in the home security business is that landlines are vulnerable to being cut by burglars. Cell towers are well protected, and cellular networks offer multiple data highways for alarm signals to reach monitoring centers. That said, our systems include a phone line connection for customers who want to use that as a backup. We're all about giving people options, without nickel-and-diming them for every single feature."
The landline news is grim: in its recent earnings statement, Qwest reported a whopping 39% drop in quarterly profits, and AT&T saw a 47% drop in landline subscribers over the past eight years. AT&T has responded by aggressively lobbying the FCC to lessen their regulatory burden to maintain their wirelines. Verizon is fleeing the landline business altogether, selling its landlines to Frontier Communications in 13 states.
The good news is that cellular reach and reliability is getting stronger, as large telecoms focus on expanding their cellular data networks. Verizon, AT&T and Sprint are fiercely competing to hold the title of "best-in-class" network for speed, reliability and coverage. All are plotting their multi-billion dollar investments in the next generation of data superhighways with 4G.
As telecom titans battle to create better and faster cellular networks, SimpliSafe's wireless alarm offers cutting-edge protection for the company's customers. SimpliSafe's $14.99 flat monthly fee allows customers to enjoy reliable and professional home security without having to pay for a landline. Bye-bye landlines; home security is completely wireless with SimpliSafe.
About SimpliSafe
SimpliSafe is a simple, secure and complete wireless security system. Using entirely wireless components, the alarm system can be easily customized and self-installed by a renter or homeowner, and is portable for use at the owner's next residence. The system connects to a 24-hour Emergency Dispatch Center using a built-in cellular module. SimpliSafe Inc. is headquartered in Boston, Massachusetts. For more information, visit http://simplisafe.com or call 1-888-957-4675.
###