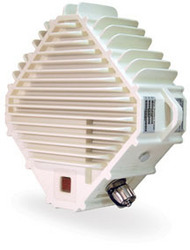 We take great pride in this fact. With the current state of the American economy today there is no better way to help rebuild it than by buying products made by a true American company.
San Diego, CA (PRWEB) March 30, 2009
U.S.A. manufacturer Trango Systems, Inc., leading global developer of high-capacity point-to-point wireless backhaul equipment, will exhibit its latest models of ETSI and ANSI certified packet microwave radios in booth 2527 at the CTIA Wireless on April 1-3, at the Las Vegas Convention Center in Las Vegas, Nevada.
100% Designed and Manufactured in the U.S.A.
"Trango Systems is not only headquartered in the U.S.A., all our products are 100% designed, engineered, and manufactured in the United States of America." said Zdravko Divjak, president and CEO of Trango Systems, Inc. "We take great pride in this fact. With the current state of the American economy today there is no better way to help rebuild it than by buying products made by a true American company."
Solving Carrier Backhaul Burdens
Trango licensed microwave systems have been specifically engineered for mobile and fixed telecommunications carriers and broadband service providers who require high-capacity wireless IP bandwidth and/or TDM bandwidth for demanding network applications including UMTS, 3G, 4G, WiMAX, Edge, LTE, and more. These IP-centric wireless network bridges are ideal for carrier Ethernet applications, mobile backhaul, WiMAX backhaul, ISP bandwidth, as well as private enterprise wireless networks, including replacement of leased lines such as DS1, DS3, and OC3.
Expanding Worldwide Reach
Trango has acquired new customers in many different market segments in the U.S.A. as well as abroad including local, city, and state governments, police and fire departments, hospitals, banks, oil refineries, energy companies, telecommunications carriers, wireline and wireless ISPs, and WiMAX broadband access operators.
"With the growth and product expansion that we have achieved in recent years, along with the continued worldwide expansion of 3G, 4G, and WiMAX networks, I believe even in this downturn economy, Trango's future as brighter than ever when looking two or three years down the road," said Mr. Divjak.
Current Trango licensed radio deployments around the world have established a solid reputation for field-proven robust performance, ease of installation, dependability, and durability. These qualities, along with industry-leading cost efficiency, have network operators eager to solve their "backhaul bottleneck" issues by installing Trango licensed high-capacity backhaul equipment in their 3G, 4G, LTE and WiMAX networks. To support more worldwide markets Trango has expanded its wireless backhaul offerings to include licensed frequencies of 6 GHz, 11 GHz, 15 GHz, 18 GHz, and 23 GHz, with 7/8 GHz currently in development.
"We continue to attract new business from all around the world. Our customers have deployed our Ethernet backhaul equipment in 14 new countries over the last 6 months alone," said Mr. Divjak.
Since the release of the first licensed wireless product nearly 2 years ago, Trango licensed microwave radios have been deployed all around the world. With project inroads to over 150 countries, Trango has licensed backhaul deployments in Central America and North America including the United States (U.S.A.), Canada, Puerto Rico, Panama, Dominican Republic, and others; South America including Brazil, Peru, Netherlands Antilles, Ecuador, Venezuela, Chile, and more; Africa and the Middle East including Nigeria, Seychelles, Malawi, Mali, Pakistan, Iraq, Cyprus, Lebanon and several others; and in many Europe locations including Macedonia, Lithuania.
Product Highlights at CTIA Wireless, Booth #2527
Trango will feature the licensed microwave TrangoLINK® Apex and TrangoLINK Giga®, and the license-exempt TrangoLINK-45™. Both licensed packet microwave IP solutions, TrangoLINK® Apex and TrangoLINK Giga®, feature ultra-low latency performance (as low as 100 microseconds), with exceptionally high packets-per-second rates (1 million PPS+), making either radio ideal for bandwidth intensive data transport, especially for time-sensitive triple play traffic such as voice-over-Internet-Protocol (VoIP), mobile broadband, video streaming and broadcast applications.
TrangoLINK® Apex is an all-outdoor IP-native microwave link that features Hitless Adaptive Coding and Modulation for continuous operation and optimal performance through even the hardest rain fade events. It delivers up to 375+ Mbps of full duplex bandwidth (750+ Mbps FD aggregate). TrangoLINK® Apex is available in frequencies 11, 15, 18, and 23 GHz in ANSI and ETIS models.
TrangoLINK Giga® is a split-architecture microwave radio system that is both Ethernet-native and TDM-native and delivers up to 310+ Mbps of full duplex bandwidth (620+ Mbps aggregate) and features four Gigabit Ethernet ports (10/100/1000BaseT) and eight E1/T1 ports.
TrangoLINK-45™ is an IP-native Wireless Ethernet Bridge that delivers up to 45 Mbps of usable data throughput using Orthogonal Frequency-Division Multiplexing (OFDM) technology and operates in multiple 5 GHz bands. The multi-band feature provides a choice between multiple frequencies within the 5 GHz range (5.2, 5.3, 5.4 or 5.8 GHz) in the convenience of one radio.
About Trango Systems
Trango Systems, Inc. is on the forefront of innovation in developing high-capacity carrier grade fixed wireless microwave communications equipment in licensed and unlicensed frequencies for both point-to-point and point-to-multipoint wireless transmission systems. Trango specializes in long-range licensed wireless backhaul for carriers and operators that require both Ethernet/IP traffic as well as traditional TDM traffic with E1/T1 connectivity. Other applications include unlicensed secure wireless backhaul, enterprise outdoor wireless WAN/LAN extensions, wireless IP video surveillance systems, municipal data and public safety networks, high-speed broadband Internet access, and more. The privately held corporation is headquartered in Poway, San Diego, CA where it conducts product development, manufacturing, marketing and distribution activities. Product specifications and details are subject to change. For more information, visit trangosys.com.
###