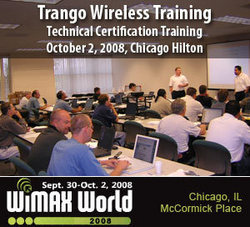 San Diego, CA (PRWEB) September 17, 2008
Trango Systems (formerly known as Trango Broadband Wireless), leading global developer of high-capacity licensed and unlicensed fixed wireless microwave communication systems, will exhibit its latest products at WiMAX World 2008 Conference and Expo September 30 through October 2, as well as host a Technical Certification Training on October 2.
Attendees can visit Trango at the WiMAX World Expo in booth 527 where the company will feature its versatile arsenal of high-capacity wireless backhaul equipment. Trango microwave systems are designed to deliver large amounts of wireless IP (Internet Protocol) bandwidth, making them ideal for a wide range of telecommunications applications including WiMAX backhaul, 2G/3G/4G mobile/cellular backhaul, carrier Ethernet networks, rural broadband access, municipal/government networks, and enterprise wireless network extensions, including leased line DS1/DS3/OC-3 replacement.
Among the products highlighted will be the licensed all-outdoor Ethernet-native RF microwave radio, TrangoLINK® Apex; the licensed split-architecture Ethernet/TDM native RF microwave link system, TrangoLINK Giga®; and the unlicensed 5 GHz multi-band OFDM wireless Ethernet bridge, TrangoLINK-45™. The TrangoLINK Giga® is currently shipping in frequencies 6, 11, 18, and 23 GHz, and will soon also be available in ETSI standard versions, including 15 GHz. TrangoLINK® Apex will be available in the same licensed frequencies and is now shipping the 18 GHz model. Beginning this fall, both TrangoLINK Giga® and TrangoLINK® Apex will be available in ETSI European standard versions, starting with 23 GHz and 11 GHz models. TrangoLINK-45™ is ETSI certified and operates in multiple unlicensed bands: 5.2, 5.3, 5.4, and 5.8 GHz.
In addition to exhibiting, Trango will be holding a comprehensive technical certification training course on Thursday, October 2 at nearby Chicago Hilton hotel, just 2.5 miles North of where WiMAX World takes place. Running concurrently on the last day of WiMAX World, the wireless training in Chicago is designed for new and current Trango integrators and Trango Partners who want to learn how to maximize the benefits of Trango backhaul equipment. Anyone looking to build a WiMAX broadband network, or already running a network, should not miss this highly technical and informative session. It covers everything from link planning, installation, basic configuration, network management, and troubleshooting. Trango holds the same wireless training course every month, including a factory tour, at the company's facility in destination city, San Diego, California.
About WiMAX World 2008 Conference and Expo
This three-day event is held at McCormick Place in Chicago, Illinois from September 30 through October 2, 2008. Day one of WiMAX World, September 30, is conference-only while days two and three, October 1-2, feature both conference sessions and exhibition. In its fifth year, the growing wireless and mobile broadband event focuses on WiMAX networks, mobile broadband networks and related adjacent technologies. This growing annual telecommunications event addresses the current state of the WiMAX, broadband wireless, and the mobile broadband marketplaces and includes participants such as network operators, broadband Internet access service providers, WiMAX Forum members, manufacturers, end users, analyst firms, media and associations.
About Trango Systems
Trango Systems, Inc. is on the forefront of innovation in developing high-capacity carrier class microwave communication solutions in licensed and unlicensed frequencies for both point-to-point and point-to-multipoint wireless transmission systems. Trango specializes in long-range licensed wireless backhaul for carriers and operators that require both Ethernet/IP traffic as well as traditional TDM traffic with E1/T1 connectivity. Other applications include unlicensed secure wireless backhaul, enterprise LAN/WAN extensions, wireless IP video surveillance systems, municipal data and public safety networks, high-speed broadband Internet access, and more. The privately held corporation is headquartered in Poway, San Diego, CA where it conducts product development, manufacturing, marketing and distribution activities. Product specifications and details are subject to change. For more information visit trangobroadband.com
###