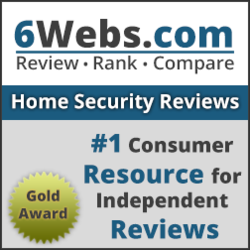 Compare the leading wireless home security system providers online at 6Webs.com.
Seattle, WA (PRWEB) May 24, 2013
6Webs.com has educated thousands of buyers on what to consider when picking out a home security monitoring provider. The easy to read reviews and comprehensive comparisons help make 6Webs.com the useful resource consumers prefer for unbiased and impartial home security reviews. 6Webs.com just recently completed performing their evaluations of the leading wireless home security system providers in the nation. The wireless home security companies are rated on a number of key factors including reliability, technology and equipment.
Tim Smythe from 6Webs.com reports, "When talking with individuals obtaining a cost-effective and dependable home alarm system is generally time consuming task as buyers have trouble on where to start with their research. Now consumers have an independent online resource to seek advice from when in the market for a wireless home security system."
FrontPoint Security is the best wireless security system company according to 6Webs.com. FrontPoint Security is recognized for providing their customers with remarkable customer service and sustaining an excellent rating on the Better Business Bureau. The other top wireless home security providers in the nation are Protect America and ADT Security. Protect America, based in Texas, provides home security services countrywide by furnishing their customers with GE Security equipment backed up by a lifetime warranty. ADT Security is the clear leader when it comes to professionally installed home security systems. ADT Security furnishes their customers with brand name equipment and has a variety of plans and services from which to choose.
6Webs.com learned that mobile features were a significant determining factor when consumers were buying a wireless home security system. FrontPoint Security offers their customers with the capability to remotely arm and disarm the home security alarm system as well as configure the security system to send text message notifications when events take place in the home. Consumers can do a comparison of the features of the top wireless home security providers online at:
6Webs.com - Best Wireless Home Security Systems
About 6Webs.com
6Webs.com is dedicated to delivering homeowners with the best security system information available. 6Webs.com delivers comparisons in an user friendly format so homeowners can quickly get the information they are trying to find. 6Webs.com also released educational information on safety and security on their home security blog. Visit 6Webs.com for the most up-to-date information about who's popular and who's not within the home security industry.