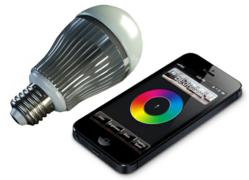 Consumers can now easily control and automate color lighting through an iPhone or handheld remote.
California, CA (PRWEB) December 07, 2012
Starting today, Limitless Designs are shipping LimitlessLED, the world's first highly affordable iPhone controlled WiFi color LED Light bulb.
The new LED Smart-Light allows users to tune shades of white light, gradually changing between different colors and brightness. With the 16 million color capability, users can personalize lighting to suit their mood. Consumers can now easily control and automate lighting through a handheld remote or smartphone.
When integrated with other smart devices it can do amazing things such as have the lights flash or change color; when an object is moved or taken, changed temperature, someone knocks at the door, the dog runs out of the yard, someone is in the cookie jar or when the laundry is done.
The new LED Smart-Light will connect with the soon to be released "Pebble the E-Paper Watch", "SmartThings hub" and "Twine: The wireless multi sensor" as seen on kickstarter.com. Developers and hobbyists can use simple TCP/IP commands to integrate any application with the opensource LimitlessLED smart-light.
Consumers already know about LED light's Eco cred: The high quality energy-saving bulbs are only using 12% of the power of incandescent lights and lasting up to 50 years.
Setup in a few minutes, the user simply downloads the free app to start experiencing light in a completely new way. Available exclusively from the LimitlessLED website, consumers can get started for as little $19. For more information visit http://www.limitlessled.com
MEDIA CONTACT:
For more information or images, please contact:
Nathan Ahern
Marketing and Sales Manager
support(at)limitlessled(dot)com
Limitless Designs LLC
California, USA
Phone +1 714.312.5966