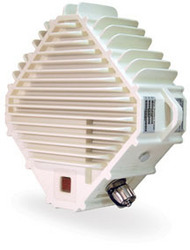 San Diego, CA (PRWEB) February 12, 2009
Trango Systems (formerly known as Trango Broadband Wireless), leading global developer of high-capacity point-to-point fixed wireless equipment, will exhibit its latest releases of ETSI and ANSI compliant packet microwave radios in stand 2A97 at the GSMA Mobile World Congress (MWC) on February 16-19, at the Fira de Barcelona convention center in Barcelona, Spain.
The latest releases of licensed wireless backhaul radios from Trango comply with harmonized point-to-point telecommunications standards that are set forth by the European Telecommunications Standards Institute (ETSI), which covers products for operation in Europe and other world regions that have adopted equivalent standards, including Australia, New Zealand, and others in the Asia Pacific Rim. This new line of ETSI licensed wireless radios will begin shipping in February and will first be available in frequencies of 11 GHz, 18 GHz, and 23 GHz, with ETSI models in 6 GHz and 15 GHz to soon follow.
Solving Carrier Backhaul Burdens
Trango wireless backhaul systems have been specifically engineered for mobile and fixed telecommunications carriers and broadband service providers who require reliable high-capacity wireless IP bandwidth and/or TDM bandwidth for demanding network applications including UMTS, 3G, 4G, WiMAX, Wi-Fi, Edge, LTE, and more. These IP-centric wireless network bridges are ideal for carrier Ethernet applications, mobile backhaul, WiMAX backhaul, ISP bandwidth, as well as private enterprise wireless networks, including replacement of leased lines such as DS1, DS3, and OC3.
Many service providers, systems integrators, enterprises, and resellers around the world have been waiting for Trango ETSI models to be released. As ETSI models begin shipping, Trango expects a significant boost to deployments in Europe and other regions that adhere to ETSI standards. Current Trango licensed radio deployments around the world have established a solid reputation for field-proven robust performance, ease of installation, reliability, and durability. These qualities, along with industry-leading cost efficiency, have network operators eager to solve their "backhaul bottleneck" issues by installing Trango licensed high-capacity backhaul equipment in their 3G, 4G, LTE and WiMAX networks.
A Worldwide Presence
Since the release of the first licensed wireless product nearly 2 years ago, Trango licensed microwave radios have been deployed all around the world. With project inroads to over 150 countries, Trango has licensed backhaul deployments in Central America and North America including the United States (U.S.A.), Canada, Puerto Rico, Panama, Dominican Republic, and others; South America including Brazil, Peru, Netherlands Antilles, Ecuador, Venezuela, Chile, and more; Africa and the Middle East including Nigeria, Seychelles, Malawi, Mali, Pakistan, Iraq, Cyprus, Lebanon and several others; and in many Europe locations including Macedonia, Lithuania.
Product Highlights at Mobile World Congress
Trango will feature three point-to-point wireless backhaul products at the show. The licensed microwave TrangoLINK® Apex and TrangoLINK Giga®, and the license-exempt TrangoLINK-45™.
TrangoLINK® Apex is an all-outdoor IP-native microwave radio that delivers up to 375+ Mbps of full duplex bandwidth (750+ Mbps aggregate) and has several features that are exclusive to licensed all-outdoor units, including Hitless Adaptive Coding and Modulation for continuous operation and optimal performance through even the hardest rain fade events. Other exclusive features include an optical fiber interface, real-time digital RSSI display, and support for true hot standby 1+1 link protection with Rapid Port Shutdown (RPS). TrangoLINK® Apex is available in ANSI and ETSI models for frequencies 11, 15, 18, and 23 GHz.
TrangoLINK Giga® is a split-architecture microwave link system that delivers up to 310+ Mbps of full duplex bandwidth (620+ Mbps aggregate) and is both Ethernet-native and TDM-native featuring four Gigabit Ethernet (GigE: 10/100/1000BaseT) ports and eight E1/T1 ports which allows network operators unprecedented flexibility and efficiency when segregating traffic, running mixed traffic (TDM with Ethernet), or for easy migration from TDM technology to a Internet protocol Ethernet network. It also features a real-time digital RSSI display on both the outdoor-unit and the indoor-unit for fast and easy antenna alignment during installation. TrangoLINK Giga® is available in ANSI and ETSI models for frequencies 6, 11, 15, 18, and 23 GHz.
Both licensed packet microwave IP solutions, TrangoLINK® Apex and TrangoLINK Giga®, feature ultra-low latency performance (as low as 100 microseconds), with exceptionally high packets-per-second rates (as many as 1 million PPS). The combination of high capacity, low latency, and high PPS makes both systems especially suited for time-sensitive triple play traffic such as voice-over-Internet-Protocol (VoIP), mobile broadband, video streaming and broadcast applications. Both systems support Quality of Service (QoS) and VLAN features with eight priorities and four queues, as well as 1+1 link protection configuration with the feature Rapid Port Shutdown (RPS) for extremely fast failover switching (50 ms). 15 GHz ETSI models of both licensed product lines will be available for pre-booking, and will start shipping this spring.
TrangoLINK-45™ is an IP-native wireless Ethernet Bridge that delivers up to 45 Mbps of usable data throughput using Orthogonal Frequency-Division Multiplexing (OFDM) technology and operates in multiple 5 GHz bands. Some of the features include QoS, VLAN support, Dynamic Frequency Selection (DFS), Automatic Transmit Power Control (ATPC), Adaptable Rate Modulation, and Auto RF RX Threshold for superior interference mitigation. The multi-band feature provides a choice between multiple frequencies within the 5 GHz range (5.2, 5.3, 5.4 or 5.8 GHz) in the convenience of one radio. This allows network operators an unprecedented level of operational flexibility in high noise floor areas. The highly adaptable TrangoLINK-45™ is ETSI compliant and is also available in versions that are approved for operation in Canada (Industry Canada certified), United States of America (USA Federal Communications Commission certified), and other international markets (OEM models).
About GMSA Mobile World Congress (MWC):
The GSMA Mobile World Congress (formerly 3GSM World Congress) is one of the world's largest exhibitions dedicated to the mobile communications industry. It brings together as many as 50,000 attendees from mobile operators, equipment vendors, Internet and entertainment professionals to conduct business, discuss industry topics and trends, and help define the continuing path of the industry. Located for easy access to its worldwide audience, MWC is held at the Fira de Barcelona center in Barcelona Spain and runs February 16-19, 2009. MWC draws executives from all surrounding regions including Eastern Europe, Western Europe, and Scandinavia, as well as other worldwide regions of the Middle East, Asia, North and South America, and Africa.
In addition to GSMA Mobile World Congress, Trango will be exhibiting at several other wireless trade shows throughout the year including CTIA Wireless held in Las Vegas, Nevada, USA, April 1-3, 2009. Trango will also exhibit at 4G World (formerly WiMAX World Americas) in Chicago, Illinois, USA, September 15-18, 2009.
About Trango Systems:
Trango Systems, Inc. is on the forefront of innovation in developing high-capacity carrier grade wireless microwave communications equipment in licensed and unlicensed frequencies for both point-to-point and point-to-multipoint wireless transmission systems. Trango specializes in long-range licensed wireless backhaul for carriers and operators that require both Ethernet/IP traffic as well as traditional TDM traffic with E1/T1 connectivity. Other applications include unlicensed secure wireless backhaul, enterprise wireless outdoor WAN/LAN extensions, wireless IP video surveillance systems, municipal data and public safety networks, high-speed broadband Internet access, and more. The privately held corporation is headquartered in Poway, San Diego, CA where it conducts product development, manufacturing, marketing and distribution activities. Product specifications and details are subject to change. For more information, visit trangosys.com.
###