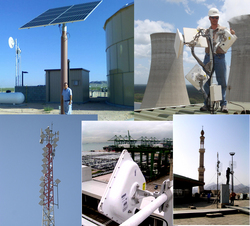 Morgan Hill, CA (PRWEB) March 11, 2009
AIRAYA, a world-class designer and developer of proven, fast and predictable outdoor wireless point-to-point and multipoint backhaul products, today unveiled its new MIMO-based WirelessGRID-300 outdoor wireless radios for high performance backhaul (point-to-point) and multipoint backhaul networks operating in the 4.94 to 5.85 GHz frequency range. WirelessGRID-300 outdoor radios use the latest MIMO/OFDM technology and are designed for use in licensed public safety, government and enterprise networks, providing secure high-bandwidth, low-latency connectivity for video, data, and voice communications.
WirelessGRID-300 Key Features Include:
1. 3x3:2 MIMO OFDM Radio for efficient, high performance use in Line of Sight and Near Line of Sight Applications
2. SecureRF layered security architecture for authenticated, 128-bit AES encrypted communication
QoS and VLAN termination/management for traffic shaping, link optimization, and logical network segmentation
3. Real-time antenna alignment tool for ease of installation and monitoring via Web, Telnet, and SNMP
4. Adaptive Rate Selection and adaptive modulation for maximum performance and reliability
5. Gigabit PoE Interface for reliable remote power and gigabit Ethernet interface to outdoor radios located up to 300ft from power and network.
6. Distances up to 30 miles (50km) and TCP/IP data rates up to 100 Mbps utilizing 300 Mbps radios and external antennas.
Mike Nydam, President and CEO of AIRAYA, stated, "We have been asked by many of our customers to provide an extremely reliable, high-capacity backhaul system for the thousands of wireless video, service provider, and enterprise networks we have installed today. These demanding environments require both high reliability and speed to keep critical infrastructure running smoothly. Utilizing the latest MIMO OFDM radio technology and our extensive software expertise, we've created a cost-effective solution to service this market with our new advanced radio communication system, the WirelessGRID-300."
Popular Applications Include:
1. Rural Broadband Service Infrastructure
2. Video Surveillance Point-to-Point and Multipoint Backhaul
3. WiMAX BTS High-capacity backhaul
4. Wireless ISP infrastructure backhaul
5. Building-to-building connectivity at Fast Ethernet speeds
6. Cost-effective alternative for legacy microwave links
7. WISP Internet POP for remote areas
8. Reliable backup for high-speed FSO and millimeter-wave links or fiber lines
AIRAYA's proven ability to integrate with multiple networking architectures and higher level encryption systems ensure that it will work with legacy systems and advanced networks. AIRAYA is recognized as an industry innovator delivering the highest quality high-speed, predictable, secure, scalable and flexible broadband wireless products, and backing these systems with expert technical support and service.
About AIRAYA:
Founded in 2001, AIRAYA is a world-class designer and manufacturer of proven, fast and reliable outdoor wireless multipoint and backhaul products for high capacity military, public safety, service provider, and enterprise networks. The company is located in Morgan Hill, California and is privately held. AIRAYA products are available through a worldwide network of experienced distribution and certified reseller partners. For more information, please visit the AIRAYA web site at: AIRAYA Wireless Networks Homepage, email info (at) airaya (dot) com, or call toll free 1.866.2AIRAYA (1.866.224.7292) - International 1.408.776.2846. Fax 1.408.776.3339
###