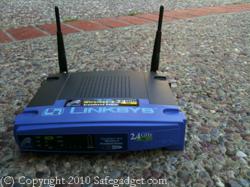 Wi-Fi Wireless Network break-ins are in the news every day, Safegadget.com helps protect against these growing threats.
Burlingame, California (PRWEB) January 18, 2012
Safegadget.com is a new computer security website that helps educate individuals and small businesses on how to safely use their devices in an age where computer breaches are in the news every day.
A new vulnerability known as Wi-Fi Protected Setup (WPS) PIN Brute Force (US-CERT VU#723755) allows most wireless routers to be quickly hacked.

The public is unaware that there is a security hole
Most routers sold in the last 4 years are vulnerable
The easy to use Reaver attack tool is now available
Wireless router manufacturers are slow to produce a fix
A new How To protect your wireless router against the WPS vulnerability article helps users cope with the new Wi-Fi Wireless Network WPS vulnerability that affects millions of users. Hackers can recover a wireless network's secret WPA, WPA2 password within hours of using a hacking tool. With the password, criminals can capture all information being sent on your network including online banking, online shopping, and online trading data. Hackers could also steal Internet Access and perform illegal activities such as downloading pirated material on compromised wireless networks.
Safegadget.com helps users identify which hardware wireless routers are vulnerable as well as patch them to prevent the problem.
Safegadget's other tutorials cover a wide range of important security topics, including:
Creating, storing, and using secure passwords
Securely using a public wireless network (Wi-Fi) hotspot
Safely performing online trading, banking, and shopping
Ensuring online privacy
Finding free and legitimate Internet security, anti-malware, and anti-virus software
Securing your Internet browser (Internet Explorer, Firefox, Chrome)
Safely using Email and Facebook
Safegadget.com is a free resource that helps individuals safely navigate the Internet. With the movement of data and applications to the cloud, privacy and security are more important than ever. Users and businesses entrust their information to online services without even thinking about security. Safegadget.com's purpose is to educate users on how to protect themselves against new online threats in an ever changing and evolving computer landscape.
About Safegadget.com: Safegadget.com is an informational website dedicated to helping individuals and small businesses secure their computers and electronic devices. For more information please visit http://www.safegadget.com.
###