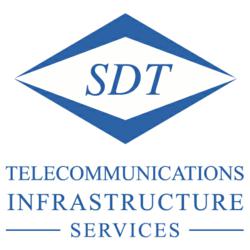 In a fast-paced and demanding industry, new thinking and approaches are crucial. This aggressive expansion of the Wireless Division gives SDT the ability to perform for our customers on both sides of the tower fence.
James Ezell, President, SDT
(PRWEB) July 02, 2013
As they mark 20 years in business this month, Southern Diversified Technologies, Inc., (SDT) is expanding services and capabilities in the wireless division.
SDT's Wireless Division has been rapidly increasing personnel and equipment in order to meet the industries huge demand for Tower Modifications, Civil Construction, Rooftops, Small Cell and DAS deployments. Bandwidth needs of the country are growing exponentially. While SDT has a focus in the Southeastern United States, the company handles customers nationally and internationally.
SDT has five service divisions that work together within an Integrated Project Delivery model.
WIRELESS SERVICES
SDT has the experience and capability to handle all of the many components for wireless carriers in Macro and Micro applications. From PCS, Cellular, Wi-Fi/Wi-Max, Microwave, Paging, Satellite, and more.
WIRELINE SERVICES
SDT Outside Plant Engineering and Construction provides all aspects of engineering and construction for outside plant networks from Ultra Long Haul to FTTX, Copper Distribution, LAN and others. SDT is experienced in every soil and weather condition on projects of all sizes.
INSIDE PLANT SERVICES
SDT has a wide variety of experience and capabilities under the ISP service offering all related to equipment and cabling within the Central Offices, Regens, and other building structures.
MANAGED SERVICES
SDT provides a wide variety of Managed Services including Technical, Non-Technical, Professional, and Non-Professional services specifically for the telecommunications industry for wireless and wireline architectures.
REAL ESTATE SERVICES
The far-reaching infrastructure of today's telecommunications companies encompasses everything from Right-of-Way to monolithic building projects. The SDT RE/ROW division handles all phases of acquisition management and disposition of assets. SDT provides sensible project implementation and management in a timely, cost- effective manner.
Says James Ezell, President of SDT, "The fast pace and demanding nature of the industry today requires new thinking and new approaches to integrated project delivery. This aggressive expansion of the Wireless Division gives SDT the ability to perform for our customers on both sides of the tower fence."
With 20 years of experience in finding niche capabilities in the utility infrastructure arena, SDT keeps a sharp eye for the best way to meet the needs of their customers. Today opportunities in the telecommunications are as great as ever and the demand for support in the oil and gas markets continue to grow as the energy needs of America increase.
Charlie Smith, CEO of SDT, says, "Our customers are expecting added value in project delivery, from design to construction to implementation. By combining all of these functions under one umbrella and utilizing the latest technology and project methodology, we regularly exceed those expectations."
The next twenty years are expected to mark tremendous growth in all aspects of the nation's infrastructure. As the existing infrastructure ages and new technologies emerge, there will be a great demand for companies like SDT to re-build America.
Southern Diversified Technologies, Inc., (SDT) is a nationally recognized telecommunications infrastructure services company, headquartered in Brookhaven, MS, involved in a wide variety of large and small scale deployments for several national telecommunications carriers nationally and internationally. Their Integrated Project Delivery model manages service delivery from their service divisions: Wireless Services, Wireline Services, Inside Plant Services, Managed Services, and Real Estate Services. For more information regarding SDT Telecommunications Infrastructure services visit http://www.sdt-1.com.