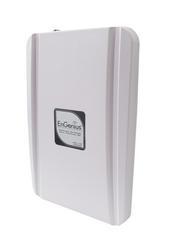 The EOA3630, with its omni directional wifi antenna, mounting bracket and PoE injector is a complete long range outdoor WiFi solution out of the box. Other stand-out features are the sealed case which is perfect for harsh environments and the advanced interface supporting multiple wireless modes. The EOA3630 operates well with all WiFi enabled devices
Costa Mesa, CA (PRWEB) May 19, 2010
As the need for wireless communication increases, so does the need for reliable coverage in non-conventional business locations. Specifically speaking, as the weather warms up, the demand for wireless availability at and around outdoor venues greatly increases. Both business and home users want to be able to check email, for example, from their laptops and wifi handheld devices in their own backyards, while at the pool or beach, in the park, at the golf course, between office buildings or even from their boat in the marina.
Over the next few months, EnGenius Technologies, Inc, leader in long range wireless networking technology, will be launching three new outdoor long-range multi-purpose wireless access points to their otherwise successful line of long range wireless router products: EOA3630, EOA7530 and the EOA7535. The three new products take wireless networking to a new dimension by breaking through the now crowded wireless airways with significantly more power than other products on the market.
While the older EnGenius EOC products work very efficiently with 400mW of wireless power to provide ample coverage for small wifi hotspots, the three new EnGenius EOA wireless repeaters use 600mW of wireless power to sustain a clear, strong wireless network signal over much longer distances. As a result, the EOA3630 can create a large efficient wireless "hotspot" using far less equipment.
"Our first product in the new outdoor series is the baseline EOA3630, a 600mW 802.11g multi-purpose wireless access point, which was designed to work flawlessly in the most extreme and diverse outdoor settings; even on busy city streets. Not only can our EOA3630 send the signal over these large spaces, it also has the power to maintain its reliable signal within these congested areas," explains Roger Chien, product manager.
Similar to the original EnGenius outdoor EOC devices, the new powerful EnGenius EOA wireless repeater uses top-of-the-line N-type 5dBi detachable high gain omni-directional antennas. These types of antennas allow for the absolute minimum of signal loss and are ideal for a spoke-designed point-to-multipoint wireless network deployment. They can relay their signal to multiple wireless client bridges, such as EnGenius' EOC2611P 600mW 802.11g or the EOC-5610 600mW 802.11a/b/g models, with ease across large expanses, such as a college campus or golf courses.
"The EOA3630, with its omni directional wifi antenna, mounting bracket and PoE injector is a complete long range outdoor WiFi solution out of the box. Other stand-out features are the sealed case which is perfect for harsh environments and the advanced interface supporting multiple wireless modes. The EOA3630 operates well with all WiFi enabled devices," says Jeff Keenan at Keenan Systems, an EnGenius Master Reseller.
In addition, EnGenius designed two of the new models - EOA7530 and EOA7535 - with innovative dual radios technology. These EOA products each have two independent, high-powered working radios that can be assigned two entirely different networking functions, such as: wireless bridge and wireless access point. Not only does this allow for an overall increase in wireless network performance and a superior wireless signal; it also creates an efficient wireless network with far less equipment, equating to lower network costs and less maintenance.
First in a series of outdoor wireless networking products, EnGenius' EOA3630 is a top-performing 802.11g long-range wireless access point. With its ease of use and affordability, the EOA3630 is ideal for businesses just beginning to expand their wireless footprint beyond the walls and doorways of their shop without sacrificing performance and reliability. The EOA3630 is ideal for business with busy surroundings or expansive outdoor areas such as street-side cafes, city gardens, inns and beachside hotels, camp sites as well as multiple dwelling facilities with multiple buildings.
Other features of the EOA3630 include:

Multiple functions - operates in 7 different modes include: access point, client bridge, client router, WDS AP, WDS bridge, repeater or wireless router
Multiple SSID - broadcasts multiple wireless names to permit different levels of network access
802.1q VLAN Tagging - capable of setting up multiple virtual LAN within one network
Signal Strength LED indicator - displays signal strength quality in green, yellow or red for quick and easy installation.
Power-over-Ethernet (24V PoE) - capable of receiving power and data over an Ethernet cable and reduces cost of operation.
Quality-of-Service (QoS) Technology - mediates bandwidth throughput for smooth transmission of VoIP (Voice-Over IP), video-conferencing, online gaming and other wireless streaming media
At this time, the EOA3630, the first in the outdoor wireless networking series, is available at select distributors, direct marketers, e-commerce sites and value-added resellers at a retail price of $169.99, and is backed by a one-year manufacturer warranty.
For addition information about the EOA3630 or other EnGenius' Long-Range "Wireless Business Class" data devices or for resale information, please visit http://www.engeniustech.com.
About EnGenius Technologies
EnGenius Technologies is a global technology innovator specializing in long-range telephone and data communications. The company pioneered the "Affordable Long-Range Wireless" product category. Its award winning, long-range devices consistently outperform competitors' deployment coverage. Established in 1999, EnGenius Technologies, Inc. is a wholly-owned subsidiary of Senao Networks, a Taiwan RF communications manufacturing company.
###