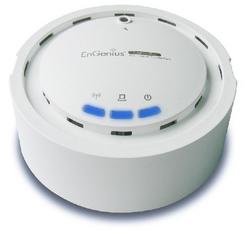 Because the EAP9550 operates at the highest speeds in wireless technology today, the EAP9550 is an excellent choice for installers when administering tier level services. The Wireless N 300Mbps standard can be offered as part of the highest tier of wireless network service
Costa Mesa, CA (PRWEB) February 23, 2010
EnGenius Technologies, Inc., award-winning innovator of long-range wireless technology, has developed the first wireless access point to incorporate the latest 802.11n wireless standard within a compact, inconspicuous, smoke-detector design. The EAP9550 wireless router contains all of the high functioning features that one would expect from EnGenius in a form that does not detract from the surrounding ambiance or attract any unwanted attention.
Using the latest 802.11n wireless standard, the EAP9550 wireless router is able to transmit data at speeds up to 300Mbps - 6x faster than its slower 802.11g cousins. In addition, Wireless N technology increases the usable bandwidth. As a result, the EAP9550 can efficiently and seamlessly handle a greater flow of data, as well as a greater number of wireless network users. And its embedded QoS (Quality of Service) technology prioritizes the increased transmissions to allow for little to no interruption of a business' streaming data applications such as VoIP, video conferencing or multimedia applications.
Incorporated into the EAP9550's compact design are two high gain, 4dbi highly omni-directional antennas. The embedded SMART antennas use innovative MIMO technology (Multiple In Multiple Out) that allow them to transmit two streams of data at rates up to 300Mbps. The multiple streams increase the EAP9550's efficiency and its coverage range.
"The EAP9550, our latest wireless router, incorporates state-of-the-art wireless technology in an innovative, easy-to-use design. With the EAP9550, businesses such as hotels and resorts, country clubs, convention centers or other such venues, can offer premium wireless services without affecting their desired ambiance," remarks Roger Chien.
In addition to the hospitality industry, EnGenius notes that the EAP9550 wireless router is ideal for large public areas where the possibility of network tampering might occur. In places such as airports, shopping malls, schools, the EAP9550 "smoke detector" design disguises the wireless technology; while providing a signal that is powerful enough to handle the large spaces.
The key features of new powerful EAP9550 are:

Multiple Wireless Names (in AP mode) - permits different access levels within one device.
Multi-Functional Device (2 modes of use) - performs as a wireless access point or repeater. The first 802.11n device to operate as a Wireless Repeater.
Intelligent Quality of Service Technology - orders bandwidth priority for high-demand transmissions.
Power-Over-Ethernet - allows the power and data to come over one cable for ease of installation.
"Because the EAP9550 operates at the highest speeds in wireless technology today, the EAP9550 is an excellent choice for installers when administering tier level services. The Wireless N 300Mbps standard can be offered as part of the highest tier of wireless network service," suggests Chien.
The EAP9550 802.11n Access Point/Wireless Repeater offers the efficiency and power expected from EnGenius Technologies within a state-of-the art design making it adaptable to the most refined interiors and most public of network topologies. It offers state-of-the art wireless service masked as a simple, unobtrusive smoke detector. The EAP9550 is available at select value added distributors, direct marketers, e-commerce sites and value-added resellers at a retail price of $109.99.
For addition information about the EAP9550 or other EnGenius products, please visit http://www.engeniustech.com.
About EnGenius Technologies:
EnGenius Technologies is a global technology innovator specializing in long-range telephone, data and VoIP communications. The company pioneered the "Affordable Long-Range Wireless" product category. Its award winning, long-range devices consistently outperform competitors' deployment coverage. Established in 1999, EnGenius Technologies, Inc. is a wholly-owned subsidiary of Senao Networks, a Taiwan RF communications manufacturing company.
###