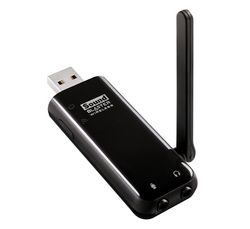 Milpitas, CA (Vocus) July 21, 2009
Creative today announced immediate availability of the new Sound Blaster® Wireless for iTunes®, which will wirelessly play iTunes, MP3 and all audio from a PC or Mac through powered speakers up to 100 feet away. The Sound Blaster Wireless for iTunes including a Creative Wireless Receiver is available today at Amazon.com and Creative.com for only US$149.99.
Sound Blaster Wireless for iTunes enables speakers to be placed anywhere in the home. Turning a Mac or PC into a wireless music system is easy, and it takes just a few minutes. Because Sound Blaster Wireless for iTunes is only about the size of a thumb drive, the user can just grab it and plug it into the USB connection on a PC or Mac. Connect a Creative Wireless Receiver to speakers or the great-sounding Creative GigaWorks T20W speakers which contain a built-in wireless receiver and the Sound Blaster Wireless for iTunes is ready to go.
Sound Blaster Wireless for iTunes works with any music software or content source including iTunes, Napster, Rhapsody, Pandora, Slacker, LastFM, YouTube or MySpace. Sound Blaster Wireless for iTunes uses a proprietary wireless technology based on 2.4 GHz designed specifically for audio so the listener doesn't have to tolerate dropouts or interference, which commonly plague Bluetooth and Wi-Fi systems. Plus, it doesn't require a wireless network, so it's much easier to use and set up than Wi-Fi based systems.
"With Sound Blaster Wireless for iTunes you really get the best of both worlds. You get the convenience of having all of your music on your laptop and the freedom to play it wirelessly through any speaker system in your home. It's really the only sound system you'll ever need. Why buy a one-dimensional docking system that only lets you listen to music from a portable player? With Sound Blaster Wireless for iTunes you can use iTunes, Windows Media Player, or whatever music software you already have on your computer, and you can play music from any Internet site," said Ryan Richards, product marketing specialist and audio blogger for Creative.
With installation of the included software on a PC or Mac, users can further enhance and control their music listening experience. Award-winning X-Fi® audio technology instantly upgrades a PC or Mac to a premium sound system. The included software also enables individual control of music in up to four specific rooms equipped with Creative Wireless Receivers or GigaWorks T20W speakers.
For more information about Sound Blaster Wireless for iTunes, visit http://www.creative.com. Follow Ryan Richards' audio blog at http://blog.ryanrichards.soundblaster.com/.
About Creative
Creative is a worldwide leader in digital entertainment products. Famous for its Sound Blaster sound cards and for launching the multimedia revolution, Creative is now driving digital entertainment on the PC platform with products like its highly acclaimed ZEN® MP3 and portable media players. Creative's innovative hardware, proprietary technology, applications and services leverage the Internet, enabling consumers to experience high-quality digital entertainment – anytime, anywhere.
This announcement relates to products launched in the United States. Availability is subject to change without notice and may differ elsewhere in the world according to local factors and requirements. Sound Blaster, X-Fi, GigaWorks and ZEN are trademarks or registered trademarks of Creative Technology Ltd in the United States and/or other countries. iTunes is a registered trademark of Apple, Inc. All other trademarks are the property of their respective owners.
###