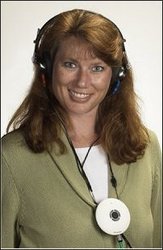 King of Prussia, PA (PRWEB) December 19, 2007
Otovation, a leading provider of innovative and highly portable diagnostic products for the hearing care industry is pleased to announce the release of the revolutionary OTOPod wireless diagnostic audiometer and Symphony software.
The OTOPod is the most portable diagnostic audiometer ever created, yet it offers powerful features at a very competitive price. The OTOPod utilizes Bluetooth® to wirelessly connect with a PC running Otovation's new Symphony software. The combination of OTOPod and Symphony offers hearing care professionals features and benefits that include:

Ease of setup and quick, efficient connection and communications with the PC
Portable enough to carry in a purse or briefcase and use with your laptop or desktop PC
A comprehensive set of tests, including air and bone conduction, and recorded speech testing
Manual or automated testing with automatic masking feature
Easy to read full-page reports with custom company or practice logo
Ability to interface with other systems and products using our integration tools
CE marked and is offered with a one or two-year warranty
Dave Davis, founder and President of Otovation commented, "The much anticipated release of the OTOPod and our Symphony software marks an important milestone for Otovation. We are extremely proud to be able to offer the world's most portable yet powerful audiometer to our partners and customers, and we look forward to entering new markets with this groundbreaking product. Our team has worked very hard to produce a product that is not only unique in its form and design, but also contains features that enhance the hearing care professional's ability to perform rapid yet accurate tests."
The OTOPod and Symphony software are now available through Otovation's growing international network of dealers and partners. For more information on the OTOPod and how to purchase, please visit our webpage or call us toll-free at 1-866-otovation.
###