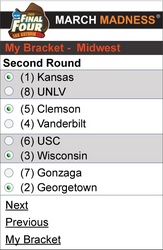 We have a long relationship with Crisp Wireless to create appealing mobile solutions around content from our major media partners. Crisp's expertise and robust technology platform enables the creation of truly innovative features such as the Bracket Challenge to entertain and engage our customers
NEW YORK (PRWEB) March 19, 2008
The Crisp-powered NCAA(R) March Madness(R) mobile portal will feature access to up to the minute scores of all games, statistics, results and bracket updates. For users with 3G enabled phones, they will be able to view video highlights of the tournament. The AT&T Bracket Challenge will give wireless users the power to make, track and manage their tournament bracket entirely from their wireless handset. Customers who participate in the AT&T Bracket Challenge will compete against each other for a chance to win great prizes from AT&T, including a grand prize of $10,000.
"The NCAA March Madness portal for AT&T allows fans to experience all the excitement of the NCAA Tournament right from the palm of their hands and is yet another great example of how Crisp Wireless is able to provide official interactive content around a marquee entertainment property such as CBS Sports and use it to create an unforgettable and authentic wireless experience for customers," said Boris Fridman, Chief Executive Officer, Crisp Wireless.
"We have a long relationship with Crisp Wireless to create appealing mobile solutions around content from our major media partners. Crisp's expertise and robust technology platform enables the creation of truly innovative features such as the Bracket Challenge to entertain and engage our customers," said Noel Estrada, Marketing, AT&T Mobility.
AT&T Mobility customers can access the NCAA(R) March Madness(R) portal from their wireless handset through MEdia(TM) Net. No additional subscription fees apply to access the portal but standard data usage charges apply. For more information, visit http://www.att.com/ncaa.
About Crisp Wireless
Crisp Wireless is the leader in mobile solutions and services designed to effectively monetize and power mobile business for top media and entertainment companies worldwide. The Crisp Wireless Publisher Network includes 10 of the top 20 major media companies and their brands including USA Today, Tribune Interactive, NBC Universal, A&E, Bravo Cable Network, Hearst, Discovery, Hachette Filipacchi, NBC Sports and Paramount Pictures, among others. A pioneer in building, managing and monetizing mobile solutions, Crisp Wireless' proprietary mLogic(TM) platform enables turnkey deployment of mobile web sites that offer publishers and advertisers robust rich media features including audio and video, commerce solutions, text messaging, and integrated data feeds for content management and campaign optimization.
For more information, please contact info@crispwireless.com or visit http://www.crispwireless.com