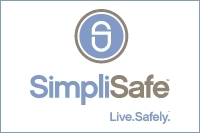 New York, NY (PRWEB) May 26, 2010
With Memorial Day right around the corner, the summer season is about to begin. AAA predicts a 5% increase in Memorial Day travel this year. Soon cities and towns will empty as residents leave the heat and chaos behind for the beach, countryside, or wherever they can escape from their usual stress. The only problem is that leaving it all behind also means leaving an apartment or home behind, which can create a whole new worry. But this summer, SimpliSafe will offer millions of vacationers and second homeowners the chance to send that last worry packing with the first home security system built with their needs in mind.
SimpliSafe is the wireless security system (http://SimpliSafe.com/wireless-security-system) specifically designed for city living, making it perfect for renters, people who move frequently or people who have more than one home in the summertime. With SimpliSafe's innovative security system, city dwellers now have an affordable and manageable way to know their home is safe while on vacation.
This could not come at a better time: according to FBI crime statistics, more crimes are reported in the summer months than any other time. Not a surprising fact, when you think about it. We are more active in summer and stay out longer at parks, restaurants and other venues. Most of us take at least one vacation during July and August, leaving homes and businesses vulnerable.
With the growing popularity of the social-media world, home invasions are expected to rise even more as sites like Twitter, Facebook and Foursquare are making it easier than ever for crooks to target empty homes.
But thanks to SimpliSafe, it's also easy to protect an apartment or home during the summer months, no matter the traveling schedule. For those who need to return to the city each week, a second SimpliSafe will ensure their beach house is safe from beach burglars until Summer Friday rolls around again.
Because SimpliSafe's wireless security systems offer both wireless alarm sensors and a built-in cellular link to their Emergency Monitoring Center, summer renters needn't worry about messy installation or requiring a landline in a house they don't own. In fact, the apartment security system (http://SimpliSafe.com/apartment-security) can be fully installed in under 30 minutes and then easily moved to protect the user's next residence or rental.
Apartment renters and owners – even seasonal renters – can finally enjoy the benefits of home security and emergency dispatch service at affordable rates. With SimpliSafe, the only worry left is how to best enjoy the time off.
About SimpliSafe
SimpliSafe is a simple, secure and complete wireless home security system. Using entirely wireless
components, the alarm system can be easily customized and self-installed by a renter or homeowner, and is portable for use at the owner's next residence. The system connects to a 24-hour Emergency Dispatch Center using a built-in cellular alarm transmitter. SimpliSafe provides wireless home security systems and cellular alarm monitoring nationwide. For more information, visit http://SimpliSafe.com or call 1-888-957-4675.
###