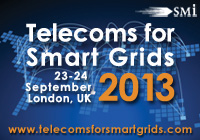 London, UK (PRWEB UK) 14 June 2013
The technical implementation of Smart Grids represents a major challenge for energy providers. The main drivers are applications in "microgrids", in which energy production, regulation and consumption are integrated in local distribution networks. Due to the rising number of photovoltaic plants and the integration of different renewable energy sources, the energy flow changes temporarily. Whereas in the past, energy was only fed into the grid from power plants, the direction in which energy is fed in can now be changed, depending on the availability of wind power or solar power.
In addition, transformer substations and passive secondary substations are being automated and monitored online together with cable-based and overhead line systems. These changes are necessary in order to maintain high quality and grid availability despite bidirectional load flows. This can only be achieved if the energy grids are supplemented with a powerful data communication network – the "Smart Grid".
Against this backdrop, SMi's 3rd annual Telecoms for Smart Grids conference will provide insight into emerging communications technology, requirements for metering, methods of coping with increasing demand, data communications and monitoring and control initiatives from an array of companies at the forefront of Smart Grid technology and communication innovation.
Speaker Panel includes:
Ashley C. Brown, Counsel to Greenberg Traurig, and Executive Director Harvard Electricity Policy Group, Harvard University
David Ross Scott, Industry Relationship Manager, Scottish Power
Denis O'Leary, Head of Smart Energy Technologies, ESB
Gordon Hewitt, ICT Project Manager, Scottish and Southern Energy
Marcus Smith, Solutions Architect, Cisco
Markus Hofsaess, Technology & Solutions, E.ON
Tim Manandhar, Low Carbon Solutions Design Manager, UK Power Networks
Erik Moll, Telecom Policy Advisor, Alliander
Giovanni Coppola, Innovation Manager, Enel Distribuzione SpA
Gunnar Hoffman, Manager of Technology Corporate R&D, RWE AG
Milo Broekmans, Senior Enterprise Architect, Stedin
Nigel Bessant, Project Delivery Manager, Scottish and Southern Energy
Sanna Atherton, Senior Project Manager, Western Power Distribution
For more information, visit http://www.smi-online.co.uk/2013telecomsforsmartgrids8.asp.