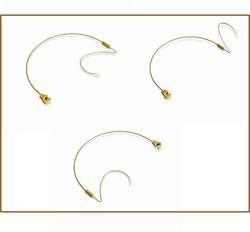 Our end-user customers and resellers have given us a lot of praise for this innovation. Building our products with a competitive edge in performance and usability is a big part of satisfying our customer base
Novato, CA (PRWEB) April 28, 2009
Point Source Audio (PSA), a specialty manufacturer of wireless mics, today officially introduced their Reversible Dual Earset Microphone accessory, a "one-size-fits-all" approach that provides unprecedented flexibility for users to wear their Point Source Audio ear worn microphones in four different configurations.
This is a significant advancement over current options that are fixed specifically for one ear or the other. The Reversible Dual Earset Mic Clip allows users to self-adjust the microphone for either the left or right ear position. With this clip-on accessory, the CO-7 and CO-5 wireless microphones will now accommodate as many as four wearing styles: 1) Single ear left microphone 2) Single ear right microphone 3) Dual earset left microphone and 4) Dual earset right microphone. The Clip also converts the CO-3 to a left-only dual earset wearing option. Event production facilities, music stores and pro-audio resellers will find this flexibility highly advantageous--allowing them to fulfill customer requirements every time without having to overstock on multiple part numbers.
"Our end-user customers and resellers have given us a lot of praise for this innovation. Building our products with a competitive edge in performance and usability is a big part of satisfying our customer base," says Jeff Schortgen, National Sales Manager at PSA.
For some microphones applications, especially in active environments, users prefer a dual earset option to provide added microphone stability. The Reversible Dual Earset Mic Clip is specifically designed to convert the CO-7, CO-5 and CO-3 ear worn microphones to ear "sets" for either left or right ear placement of the microphone. With a simple twist of the ear hook, it can rotate left or right for use, or fold flat for convenient and secure storage with the microphone in its case. The Reversible Dual Earset Mic Clip is offered in Beige to complement the microphones. Additional information and a video demonstration can be viewed online at http://www.point-sourceaudio.com .
Pricing and Availability:
The Reversible Dual Earset Microphone Clip (Part No. R-DMC-BE) is available for immediate shipping at $60 MSRP and can be purchased through Point Source Audio's network of music stores and pro-sound resellers, and system integration contractors.
About Point Source Audio:
Point Source Audio is a supplier of audio products with a focus on efficiency and unique end-user benefits. With over 60 years of combined professional audio industry experience, the PSA product designers approach every product detail with a depth of understanding that results in ease, convenience, and efficiency in design. Point Source Audio has offices in California and Florida. For more information, visit http://www.point-sourceaudio.com .
###