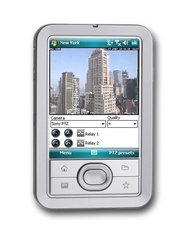 ROCHDALE, England (PRWEB) July 9, 2008
Wireless CCTV's latest development in mobile monitoring is the introduction of its newest WCCTV PDA Software. This software application, running under Windows Mobile, allows users to remotely monitor live or archived video footage using 3G mobile phone technology or Wi-Fi. Users can also Pan, Tilt and Zoom cameras in real-time.
Wireless CCTV users can enjoy the benefits of monitoring overt or covert equipment, located virtually anywhere in the world, while being on the move themselves.
This new mobile monitoring solution is especially useful for agents in the field and cross-border policing. Project managers, in multiple sectors including Construction & Utilities, can also benefit from this new monitoring solution by being able to keep an eye on projects as they develop on a daily basis.
Since the launch of Wireless CCTV's 3G product offering, many local authorities and police forces throughout the United Kingdom have been successfully using WCCTV 3G equipment in multiple overt and covert operations.
For more information, please visit: http://www.wcctv.co.uk
About Wireless CCTV Limited:
Wireless CCTV Ltd (WCCTV) is a market leader in the provision of mobile surveillance solutions, which combine the latest mobile telecommunication technologies (3G HSUPA) and CCTV. Each overt or covert portable solution delivers live and recorded evidential quality footage directly to a PDA, PC, laptop or monitoring station.
Wireless CCTV's mobile surveillance solutions have been developed in conjunction with various local government agencies and police forces. In 2007, The Home Office Scientific Development Branch rewarded Wireless CCTV with an Award for Equipment & Technology Innovation. This came in the form of a commendation for Wireless CCTV's work with Greater Manchester Police in developing 3G covert CCTV vehicles, used on a wide range of operations.
Wireless CCTV RSS Feeds:News UpdatesEvents UpdatesPress ReleasesVisualsSupport Updates
MULTIMEDIA GALLERY http://www.businesswire.com/cgi-bin/mmg.cgi?eid=5726528